What should HR focus on in 2023?
From structuring sustainable compensation programs to preparing HR's employee retention toolkits, here are ten answers to, "What should be HR's focus in 2023?"
Structure Sustainable Compensation Programs
Lead Efforts to Focus on Transparency
Develop Personalized Development Plans
Concentrate on Mental Health and Well-Being
Strengthen the Foundations of Remote Work
Paid Leave and Maintaining Remote Work Options
Emphasize Diversity and Inclusion Efforts
Nurture a Longevity Mindset
Shorten the Recruitment Process
Prepare HR's Employee Retention Toolkits
Structure Sustainable Compensation Programs
HR needs to focus on the following things in 2023—starting with compensation. Not only do companies need to create compensation structures and salary bands to keep pace with salary transparency laws, but they also need to approach compensation creatively. We had a number of tech firms throw high salaries at job seekers to get them across the line, and six months later, they fired them because the cost became unsustainable.
Businesses may not be able to offer enormously high base salaries, but can potentially look at bonuses, commissions, and other incentive compensation programs to sweeten the pot when it comes to paying their people and attracting talent. But HR also needs to abandon RTO.
I know that's a bold statement, but you'll struggle to attract talent if you insist people are in an office five days a week. And, if you mandate your current workforce to report to an office, after they've been productive while working remotely for the past three years—lots of employees are going to start looking for a new gig.
Eric Mochnacz, Senior HR Consultant, Red Clover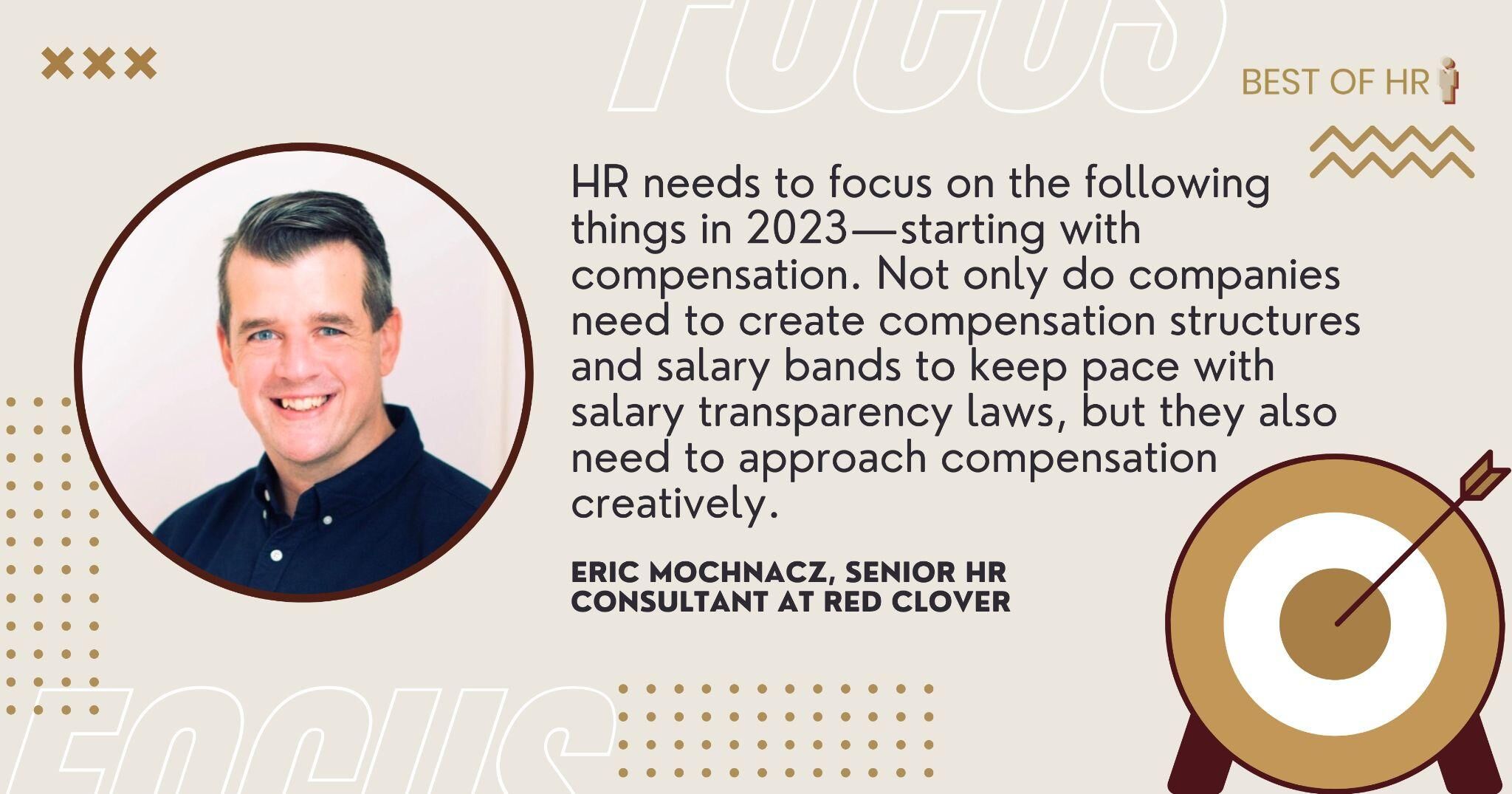 Lead Efforts to Focus on Transparency
In 2023, HR should lead its efforts to focus more on transparency. This can be seen in the early stages of the application by showing salary, benefits, and more. Then, for current employees, HR can focus on being transparent about benefits, salary changes, or office events.
Many employees want to feel seen, heard, and respected so if HR can address every obstacle head-on with open honesty, they'll gain more trust with their employees. Not only that, but once you have that established trust, you can ensure your employees will recommend your company to others.
Brandon Brown, CEO, GRIN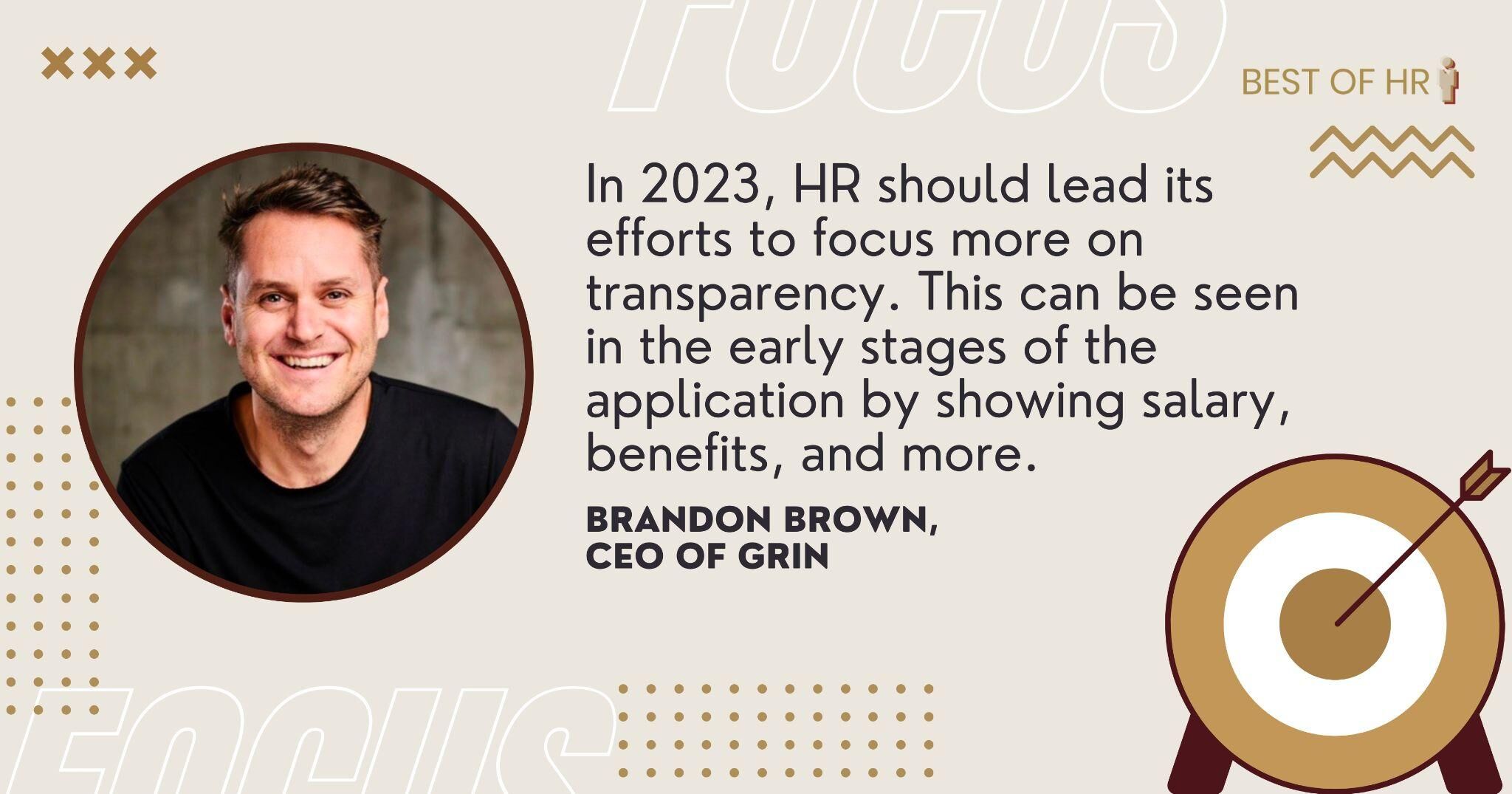 Develop Personalized Development Plans
My advice for any business in regard to a HR focus for 2023 is to increase your time and energy towards personalized development plans for your team. With a looming recession and an already bumpy hiring market due to The Great Resignation, the last thing you want is to fail to prove to your staff that you genuinely care about them and want to see them grow professionally into 2023.
A personalized development plan ensures each team member feels truly "seen" and cared-for in the workplace, as goals, training and strategies are tailored specifically to their development requirements.
Wendy Makinson, HR Manager, Joloda Hydraroll
Concentrate on Mental Health and Well-Being
In 2023, HR's number one focus should be on improving mental health and well-being at work. With the transition from in-office to hybrid or remote working environments, there's an increased chance of physical and mental health issues developing at the workplace. It should therefore be on HR's loop for this single reason. To strengthen recruitment efforts, businesses should incorporate mental health and well-being programs into their core business strategy and throughout the entire employee life cycle (from recruitment to onboarding, development, and retention).
As proof, it's been almost two years since we started offering our employees flexible work schedules to improve their mental and physical health. They can schedule their working hours however they see fit, which has led to increases in productivity, better physical and mental health. I really appreciate that we're all shifting our mindset to be more human-centric.
Maria Harutyunyan, Co-Founder, Loopex Digital
Strengthen the Foundations of Remote Work
In 2023, HR should focus on remote work as a long-term working model, rather than a stopgap response to the pandemic. With the right technology and processes in place, remote work can be just as effective as in-person work, while offering a range of benefits, such as reduced overhead costs, increased flexibility, and improved employee satisfaction.
HR should ensure that remote work is properly implemented and monitored, including the provision of necessary equipment and training, as well as the development of policies and procedures to ensure that remote workers are supported and productive.
Additionally, HR should focus on the social aspects of remote work, such as providing virtual team-building activities and encouraging communication between remote workers. By focusing on remote work as a long-term working model, HR can ensure that their organization is prepared for the future of work.
Michael Alexis, CEO, Tiny Campfire
Paid Leave and Maintaining Remote Work Options
To support moms in the workplace, both new and expecting, HR should look at advocating for the benefits mothers want most from employers. In our recent survey for BabyCenter, moms shared which benefits they prioritize from employers—to the point of sacrificing salary for the most popular options. Starting with flexible work hours and remote work options, these are among moms' most desired benefits, with 64% and 56% of mothers, respectively, saying they'd like these benefits.
Moms are even willing to sacrifice a bump in salary to get those benefits. More than a quarter of moms (29%) said they would choose remote work options over a $10,000 increase in annual pay, while another 28% of mothers said they'd prefer flexible work hours. The top workplace benefits moms would sacrifice a salary bump for include paid parental leave (33%) and dependent health coverage (30%).
Matthew Orsini, Sr. Media Relations Manager, Everyday Health Group
Emphasize Diversity and Inclusion Efforts
2023 will see an increase in the emphasis of employees as vital clogs to an organization. This will cement the need to ensure workplace diversity, equality, and inclusivity. HR will be engrossed in curating workspaces to accommodate various cultures and staff needs in order to ensure everyone feels cared for and valued. By undertaking these measures, HR ensures that the organization is future-oriented, since the globalization of commerce means the company will have staff from all over the continent.
Yongming Song, CEO, Live Polls
Nurture a Longevity Mindset
With people living and working longer, what they want from work is changing, too. This makes HR's focus on a longevity mindset key in 2023 and beyond. Younger employees will stay at a company longer if HR is actively helping them plan their professional development and offering a variety of in-house roles to cement newly acquired skills. Companies also need to focus on attracting and retaining older workers, an often overlooked source of talent.
Like younger employees, older workers often have an interest in retraining and working in different roles. And, since all employees appreciate flexibility, when HR convinces leaders to offer more part-time, remote work, employees across the age spectrum will respond positively. Nurturing a longevity mindset also means helping employees understand the financial implications of a longer life. Education and counseling on money management is a benefit that can pay dividends in more ways than one.
Sheila Callaham, Executive Director, Age Equity Alliance
Shorten the Recruitment Process
Employees are fed up with long and complex recruitment processes involving several stages and interviews with managers of various levels. This is especially true for Generation Z. Thus, in 2023, more than ever before, HR should focus on shortening recruitment. The whole process should consist of, at most, two stages, while the waiting time for the employer's decision shouldn't exceed a week.
This dynamic has proven to be extremely important for candidates. Prolonging the process negatively impacts the candidate's recruitment experience and feedback about the company. In 2023, candidates will shape the duration and length of recruitment, and HR will have to consider these expectations when creating strategies.
Nina Paczka, Community Manager, LiveCareer
Prepare HR's Employee Retention Toolkits
As the employment landscape continues to evolve in 2023, HR should come prepared with their Employee Retention Toolkits. Employee attrition rates are at historic highs and will remain there without concerted effort from human resources. Employee retention should remain at the heart of any HR strategy, as organizations ensure current staff are happy and well-equipped to take on any challenges.
With creative approaches to morale boosters and career development opportunities, companies can nurture a successful workforce well into the new year. It'll also be essential to nurture strong relationships between employees, management and stakeholders in order to create an environment with conducive conditions for growth and productivity—both inside and outside the workplace.
Carlos Trillo, Founder & CEO, Evinex
Submit Your Answer
Would you like to submit an alternate answer to the question, What should HR focus on in 2023?
Related Questions