What are best practices for unlimited PTO vacation policies?
Burnout may be taking center stage in discussion about industry reform, but that's because it's a very real and well-researched productivity killer. One way to combat this has been for businesses to offer unlimited PTO for employees to take throughout the year. But any company-wide policy rollout is sure to have growing pains. Read on for the best implementation practices, offered by 10 HR professionals, who definitely know a thing or two about company policies.
Normalize the Usage of Time Away from Work to Relax
Define What Unlimited PTO Actually Means
Audit Your Vacation Numbers
Set Mandatory Minimums
Allow Employees to Take Time off as Needed
Limit Unlimited PTO to Small Teams Only
Lead by Example
Support the Policy with a Strong Structural Backbone
Run Small Trials First, Before Company-Wide Implementation
Use a Shared Calendar to Track PTO Days
Normalize the Usage of Time Away from Work to Relax
Unlimited PTO works best when employees are provided with guidance on how best to utilize the benefit. In the past, I have set a three week minimum and then role modeled good work/life balance by taking five weeks of vacation myself. It is important to normalize the use of time away from work to rest, relax and recharge.
Angela Cheng-Cimini, SVP, Talent & CHRO, Harvard Business Publishing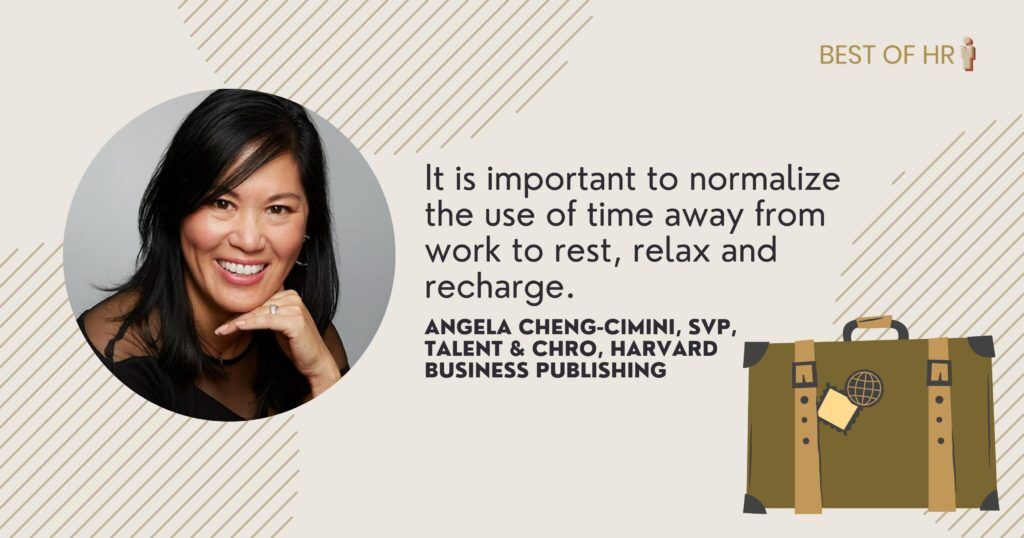 Define What Unlimited PTO Actually Means
Define what unlimited PTO actually means for your company. Will employees be able to take off whenever they want? Or will there still be some restrictions in place, such as needing to give advance notice or getting approval from a manager? Be clear about what your policy entails so there are no surprises down the road. This would help squelch any fears or confusion that employees may have about the policy and also ensure that the unlimited PTO policy doesn't impact your business operations negatively.
Amira Irfan, Founder and CEO, A Self Guru
Audit Your Vacation Numbers
If you want unlimited PTO to work, you must help managers and leaders understand what people take each quarter. One tactic we use at Guusto which has been very helpful is our People team, at the end of each quarter, runs the numbers for each team to see who may not be taking enough time off.
With this data in hand, we connect with managers to discuss and coach them on how to help their people take more time in the upcoming months to recharge and unplug. We also highlight all vacation in a shared company wide calendar, so everyone sees when others are off, including executives and founders.
Noah Warder, Head of People, Guusto
Set Mandatory Minimums
Unlimited PTO sounds nice, but the majority of data gathered on this seems to show that people use PTO even less in that model. What typically happens are that employees don't want to be perceived as taking advantage of a generous policy, or they're kept too busy to take advantage of it. Ultimately, this causes burnout which slows down productivity and negatively impacts office culture.
The best way to combat this, if your organization has unlimited PTO, is put a mandatory minimum in place so employees don't have to feel guilty about using it and they feel safer when they do. Maybe even increase that minimum based on years of service. I know nothing would make me happier than an email from HR saying, "You have to take some time off. We appreciate your hard work, but we don't want you to feel burned out on our behalf. Talk with your family, plan a trip or a staycation and let us know what dates would be best for you and we will look forward to your safe return. Thank you."
Matthew Jones, Senior IT Recruiter, vip tech consultants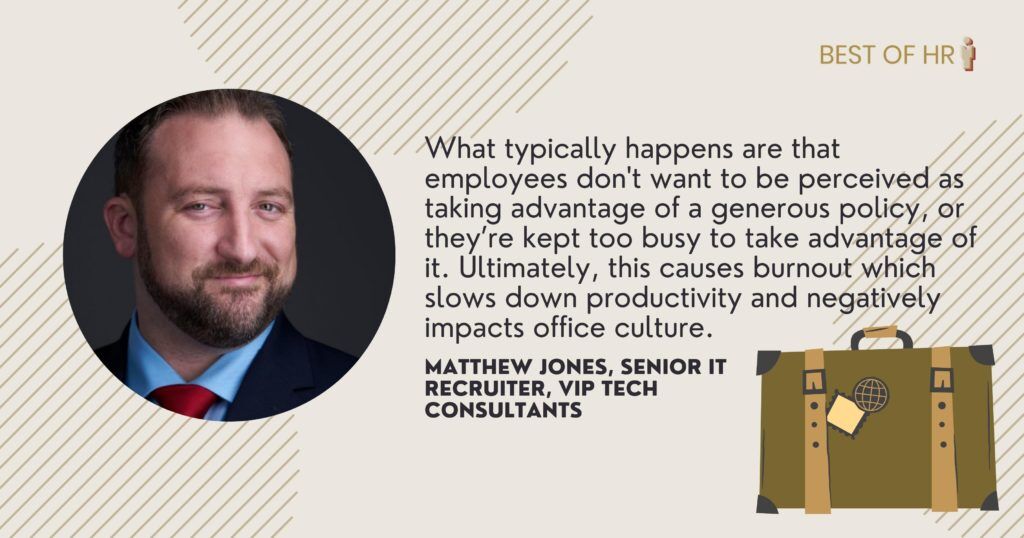 Allow Employees to Take Time off as Needed
Many companies are now offering unlimited PTO vacation policies to their employees. There are a few different ways to implement this policy, but the best practice is to allow employees to take time off as needed. This means that employees should not feel pressured to take time off and shouldn't have to use all of their vacation days in a year. Instead, they should be able to take time off when they need it, and they should be able to carry over any unused days into the following year.
One example of a company implementing this type of policy is Google. Google allows its employees to take time off when needed, and they don't have to use all their vacation days in a year. This policy has been very successful for the company and has helped improve employee morale and retention.
Wendy Makinson, HR Manager , Joloda Hydraroll
Limit Unlimited PTO to Small Teams Only
Offering an unlimited PTO policy is a great option for small teams, but it can be a logistical nightmare for large ones. Unlimited PTO sounds fantastic as an incentive during recruitment, but in reality, it means that all PTO requests have to be individually evaluated and approved. Standard PTO policies are simple and predictable for both employees and managers, which makes the approval process far more time efficient.
This isn't a major issue for companies with a small number of employees to keep track of, but once a workforce swells into the hundreds, there can be long delays that make "unlimited PTO" more trouble than it's worth.
Sara Alshamsi, Chief Operating Officer, Big Heart Toys
Lead by Example
Unlimited PTO sounds like an amazing benefit. But the perceived benefit can quickly disappear if employees are unclear about how their own behavior will be judged. Some studies into organizations with unlimited PTO found that employees took less time off than before the policy was implemented. They mirrored the behavior of their managers, assuming that taking time off would be seen as a lack of "hustle" or commitment.
If you are genuine about unlimited PTO, and you recognize the value that comes from allowing people to re-charge and re-energize, then ensure you and your leaders lead by example and actually take PTO.
Ian Cook, VP People Analytics, Visier
Support the Policy with a Strong Structural Backbone
Many companies have moved away from a traditional PTO policy and have embraced unlimited PTO. Some employees have expressed frustration with unlimited PTO despite it sounding great in theory. Without a proper structure in place, unlimited PTO can be viewed as a negative. One great practice is to establish a PTO minimum. For example, all employees are required to take a minimum of three weeks PTO each year. By establishing this minimum, it levels the playing field and employees are more open to taking PTO.
Tawanda Johnson, People & Culture Thought Leader, Sporting Smiles
Run Small Trials First, Before Company-Wide Implementation
Before making the policy of unlimited PTO vacation official, first test run it on smaller teams to see if it'll be effective without negatively impacting the company. You don't want to give employees a right to make demands that the company cannot comfortably meet or ones which will affect the business operations in the company. Track and record the progress for a while before announcing to the employees that the policy is official. Monitor the loopholes, what needs to be adjusted and align the policy so that it may run smoothly.
yongming Song, CEO, Imgkits
Use a Shared Calendar to Track PTO Days
When employees work remotely, it can be difficult to notice when people are out for an extended period of time. This can result in people being out for weeks at a time without anyone noticing. To help combat this, consider using a calendar or scheduling app that allows employees to enter their hours as they work. This allows team members to enter their time, and managers to see when someone was last active. This can help to ensure that people aren't working remotely for too long.
Luciano Colos, CEO, PitchGrade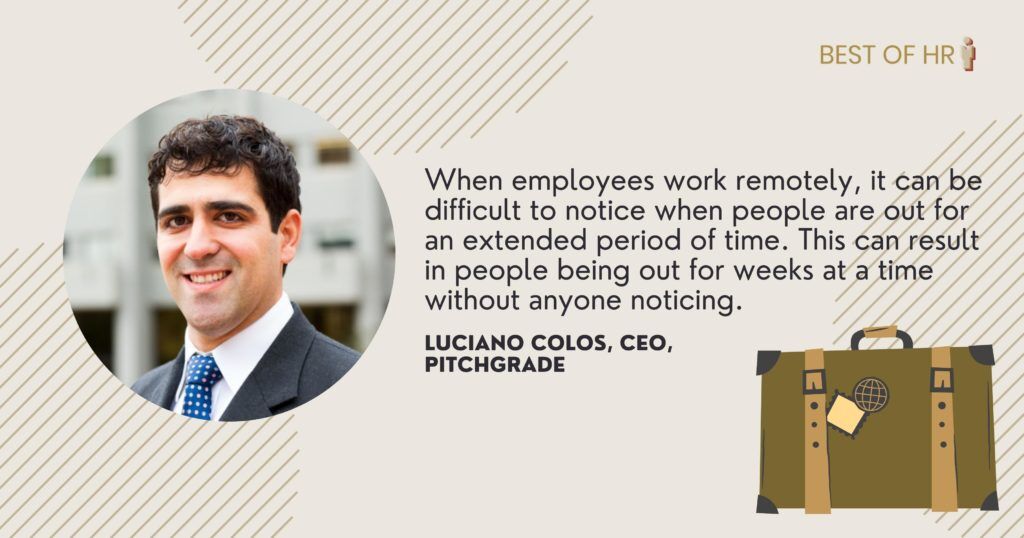 Submit Your Answer
Would you like to submit an alternative answer to the question, "What's a best practice for an unlimited PTO vacation policy?" Submit your answer here.
Related Questions