What is a best practice for managers to follow in an employee evaluation?
To help you adopt the best approach as a manager in evaluating your employees, we asked HR managers and business leaders this question for their best advice. From making employee evaluation an ongoing process to avoiding recency bias, there are several pieces of advice that managers should follow as best practices when conducting employee evaluation in their organizations.
Here are 10 best practices these leaders follow in evaluating their employees:
Make Employee Evaluation an Ongoing Process
Use Numbers and Metrics to Show Employee Performance
Go Beyond a Simple Checklist
Be Clear and Specific Toward Your Employees
Make Your Outcomes Build Employees Up
Provide Clear Examples
Critique Behavior and Not the Person
Make Use of 360-Degree Feedback
Focus on Employee Success
Avoid Recency Bias
Make Employee Evaluation an Ongoing Process
One of the guiding principles I follow when managing internal employee evaluation and recommending best practices to our clients is the idea that nothing in an employee evaluation should be a surprise. If your company holds end of year performance appraisals, that really shouldn't be the only time an employee hears feedback (whether positive or negative) about their performance!
I often recommend that performance evaluations shouldn't be a once a year event, where the evaluation form gets filed away once the discussion is over. Rather, performance discussions should be ongoing between managers and their direct reports. Then, you hold quarterly summary meetings where you reflect on the employee's performance the past quarter and set goals for the next three months. Also, managers need to be comfortable with giving on the spot feedback when they see an employee performing well or they seem to be experiencing challenges with their work.
Eric Mochnacz, Senior HR Consultant, Red Clover
Use Numbers and Metrics to Show Employee Performance
If possible, use numbers and metrics to show how the employee has been performing. For example, if they are in a sales role, you could mention how many leads and customers they acquired for the company. This will help the employee better understand how they have been doing instead of general statements alone.
Nick Shackelford, Managing Partner, Structured Agency
Go Beyond a Simple Checklist
You can't just look at a checklist of items and tick them off. An employee evaluation must be a conversation, and you need to remember to listen as much as you speak. You may have a preconception of how the conversation will go based on past performance, but that doesn't mean you should start with those preconceptions. It's important to go into the evaluation with an open mind and take the time to hear what your employee has to say. Of course, it's also important to be respectful of your employee's time – if you don't have time to really listen to what they have to say, you don't have time to conduct a proper evaluation.
Matthew Ramirez, Founder, Paraphrase Tool
Be Clear and Specific Toward Your Employees
"You need to have a better attitude." "You need to be a team player." And the list goes on. I get stories from employees or some of my students where they are given general "feedback" like this that leaves them frustrated, confused and unmotivated. They start overthinking and making what are oftentimes erroneous assumptions of what they may have done that has led to those perceptions – when they may not have been aware that there was an issue. My recommendation is for managers to be prepared to provide specific examples that provide more context as to why someone needs to have a "better attitude" or "be a team player." That additional information along with a sensitive delivery goes a long way to make the employee aware of what needs to be improved, what type of performance/behaviors would be acceptable and if applicable, identify resources or provide ideas on ways the employee can work on their continued development.
Patty Hickok, Sr. Director Employee Relations, HRIS & HR Operations, NANA Regional Corporation
Make Your Outcomes Build Employees Up
Make employee evaluations about building positives. Focus on commending employees for the things they do well. When it comes to areas in which an employee lacks, try to phrase things in a way that give employees a sense of confidence in their ability to change for the better. Let an employee know where they can improve rather than what they are lacking. Be willing to provide advice and accept feedback so that both you and your employee can create a mutual sense of cooperation. This will help mitigate feelings of anxiety that come with employee evaluations and show employees you care about improvement rather than doling out punishment. Any good evaluation should feel more like a collaboration and less like an interrogation.
Max Schwartzapfel, CMO, Schwartzapfel Lawyers
Provide Clear Examples
A manager needs to provide examples during an employee evaluation. Whether they're thriving in the workplace or falling behind, share those examples. Maybe they helped a team member complete a project on deadline, which shows solid problem-solving skills, or maybe they made a mistake at work, which caused other conflicts. Employees need to understand the manager's point of view and leading with examples is the best way to do so.
Natália Sadowski, Director of Aesthetics, Nourishing Biologicals
Critique Behavior and Not the Person
When conducting an employee evaluation, it is important to focus on the behavior and not the person. This is because critiquing the behavior helps the employee to understand what areas need improvement and encourages them to make a change. On the other hand, critiquing the person can lead to feelings of resentment and may cause the employee to become defensive. Furthermore, critiquing the person can damage morale and create an overall negative atmosphere in the workplace.
When giving feedback, it is important to be specific about the behavior and clear on the solution. This means that you should avoid general comments and focus on specific areas that need improvement. For example, rather than saying "you need to be more organized," you could say "I noticed that you were late to the meeting on Tuesday because you couldn't find your notes. In the future, I suggest you arrive to meetings early so that you have time to organize your materials."
Clare Jones, Outreach Manager, Custom Neon
Make Use of 360-Degree Feedback
Managers should have a look at their employee's peer evaluations when prepping for an employee evaluation. Even if it is anonymous, 360-degree feedback, what an employee's colleagues have to say about them should carry a fair bit of weight in an evaluation. If there are criticisms, use the most constructive to nudge an employee in a different direction. If there is praise, use it to boost that employee's morale and remind them of how much both their team and you appreciate their contributions
Linda Scorzo, CEO, Hiring Indicators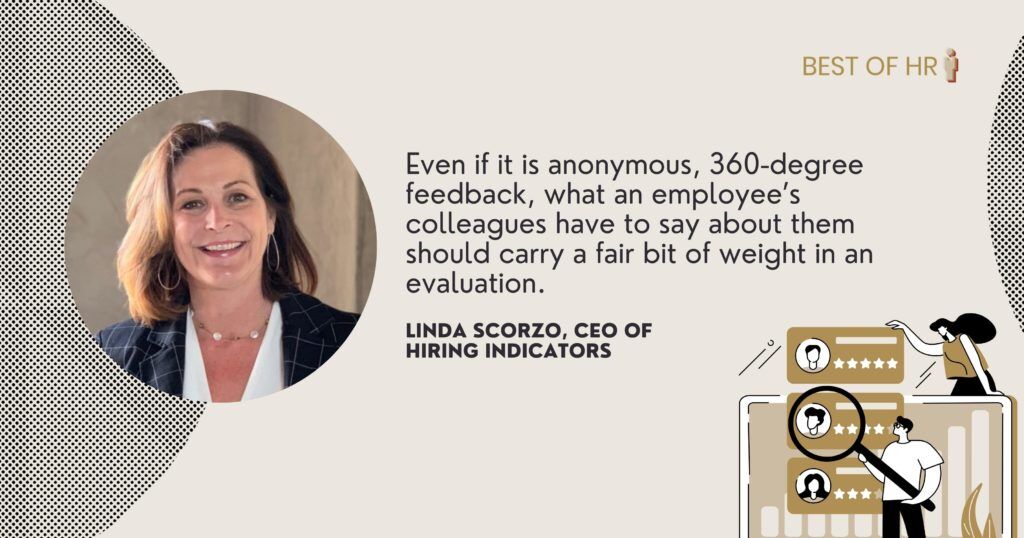 Focus on Employee Success
Employee evaluations can be difficult for both employees and managers alike. One helpful best practice when providing feedback is to focus on architecting the success of direct reports. This means to consider the outcomes you and the employee want to achieve going forward and design the evaluation feedback with that in mind. Think of positive feedback as strengths the employee should continue in working their career goals and success in their role. Corrective or constructive feedback in evaluation should also be perceived similarly: what are some approaches, attitudes or actions that the employee should adapt or cease in order to ensure their success? Be sure to discuss why these changes would be effective and potential next steps to support these improvements. When employees know that their success is the focus of the conversation, evaluations are a more pleasant experience for all involved – even the company!
Khadija Moore, Founder, Managing Director, Dijitalised
Avoid Recency Bias
Avoid recency bias. Recency bias is a cognitive bias that favors recent events over historic ones. Remembering the activities of your direct reports that occur closer to the evaluation may cause bias in the overall evaluation. In your one-on-one meetings with your direct reports, keep notes on their activities, what went well, areas for improvement, professional development, to name a few. Over time, you will have a broader story of their progress. Have your direct reports also keep track of their progress and share it with you. This does take time but helps to keep bias out of the evaluation process.
Simone Sloan, Executive Strategist, Your Choice Coach
Submit Your Answer
Would you like to submit an alternative answer to the question, "What's an employee evaluation best practice for managers?" Submit your answer here.
Related Questions