What are the best HR blogs to read?
From teambuilding.com's blog to HR Bartender to Find My Profession's blog, here are the 10 answers to the question, "What is the best HR blog?"
Teambuilding.com
SHRM
Ask a Manager
Workmatters Blog
HR Bartender
The Officevibe Blog
Evil HR Lady
Blue Board Blog
LinkedIn Talent Solutions Blog
Find My Profession
Teambuilding.com
The best HR blog is The Team Building Blog by teambuilding.com. This blog publishes hundreds of articles on topics like virtual team building, happy hour ideas for employees, and online trivia. Plus, you will also find free tools like icebreaker generators and Bingo cards. The articles are well formatted and easy to skim or read in depth. You can read the blog at https://teambuilding.com/blog
Tasia Duske , CEO, Museum Hack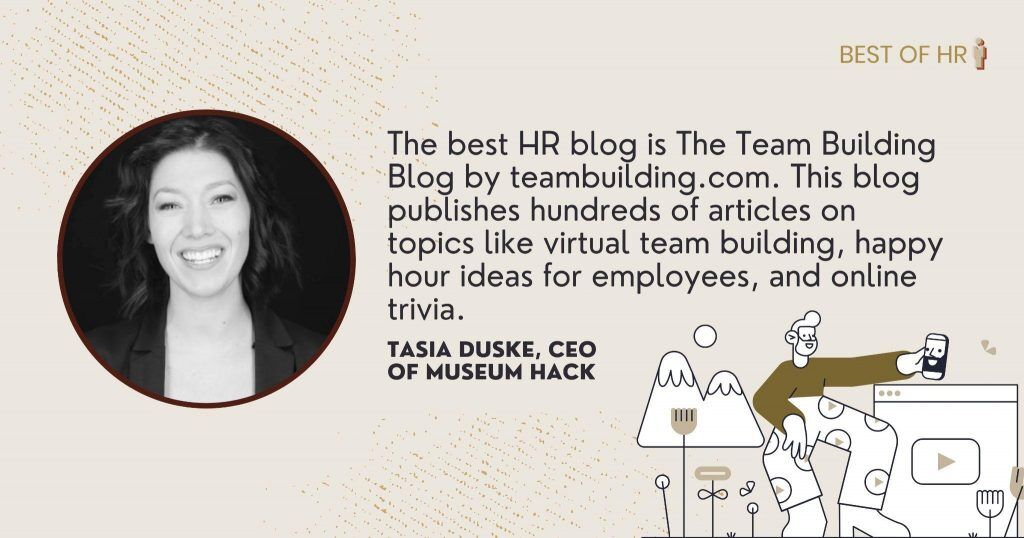 SHRM
SHRM Blog offers a community of experts and professionals that work hand in hand with the HR community. SHRM covers various HR topics such as onboarding, HRIS, and employee engagement. The blog also provides insightful articles on various business topics such as leadership, diversity, and inclusion, recruitment, and development. The blog is an excellent resource for learning from industry experts. SHRM also offers various learning opportunities through its community. These include various webinars, conferences, and events. The blog provides a solid foundation of HR knowledge.
Matthew Ramirez , CEO, Rephrasely
Ask a Manager
One of the best HR blogs for in-house teams has to be 'Ask a manager' ( https://www.askamanager.org/ ). The site is as clear as it gets when it comes to very specific questions that both internal HR teams, and employees have, with answers provided by the founder of the blog, Alison Green. It's a fascinating insight into work culture, and it can be eye-opening at times, but as a 'warts and all' documentation into modern workplaces, it really is a must-visit!
Wendy Makinson , HR Manager, Joloda Hydraroll
Workmatters Blog
There are numerous blog spots out there about anything, but getting a dedicated HR blog that addresses the nitty gritty of the HR profession, look no further than the workmatters blog .
It is an insightful blog where the author gives top-notch thoughts on resource management. From the information, the diversity offered, and exempt employees, the blog shows that the author is a professional on all things leadership, office politics, and what not to say.
The HR blog is primarily written by a single author named Bob, but it has contributing authors who dive into the most profound office life issues. Each of these contributions gives data that supports ideas and claims without a hinge of bias or misinformation.
Yongming Song , CEO, Live Poll for Slides
HR Bartender
There are many great HR blogs out there, and the "best" one will depend on your personal interests and needs.
HR Bartender is a popular HR blog that offers a mix of practical advice, news, and commentary on a wide range of HR and talent management topics. The blog is written by Sharlyn Lauby, a well-known HR consultant and speaker, and is designed to be a friendly and accessible resource for HR professionals and others interested in the field.
Luciano Colos , Founder & CEO, PitchGrade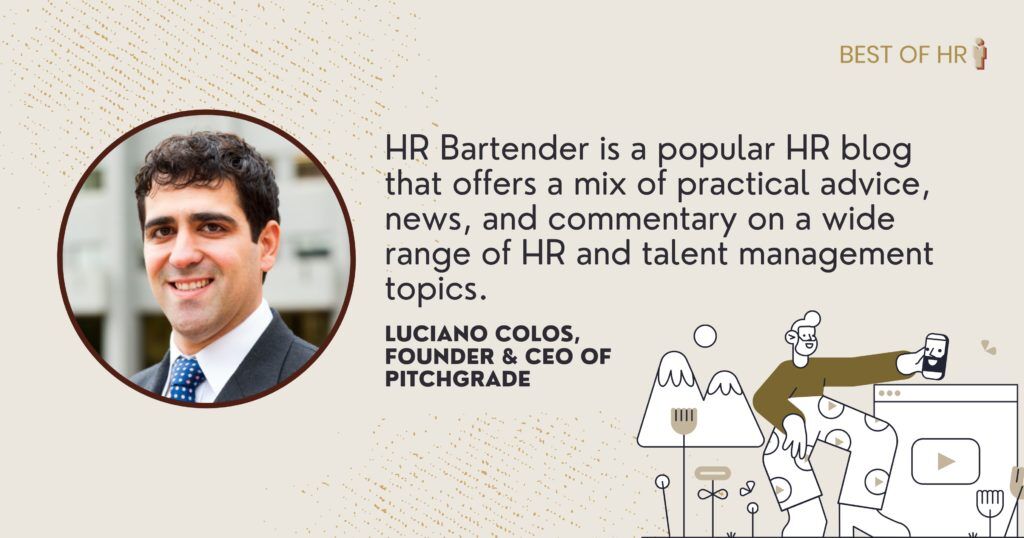 The Officevibe Blog
The Officevibe blog is dedicated to achieving good office and workplace vibes that everybody wants, but can be so hard to find. It covers everything from company culture, performance reviews, employee engagement, and any and everything else that influences the vibe of an office—all with appealing illustrations and quality infographics to help guide the reading experience.
With the goal of improving workplaces, this blog produces highly-focused content that provides top-notch insight that more than justifies any claims as the best HR blog out there.
Andrew Chen , Chief Product Officer, CommentSold
Evil HR Lady
Have you ever heard of Suzanne Lucas? She is the author of one of the best and most informative HR blogs, named Evil HR Lady . Suzanne covers various HR aspects, career coaching, and other work-related issues. She is not afraid to write about discrimination in the workplace or financial issues.
Evil HR Lady blog effectively realizes the author's mission to demystify the HR departments and clarify unexplained issues. Thanks to the blog's formula, where Suzanne Lucas answers reader-submitted questions, we can identify with her fellow readers. Her answers are always insightful and comprehensive, addressing every aspect of the issue.
Leveraging her HR experience while also taking an employee's perspective, Evil HR Lady offers everything managers, and employees need to know. Besides, with such a holy name, the blog and its content defend themselves.
Nina Paczka , Community Manager, Live Career
Blue Board Blog
Blueboard Blog is my favorite HR blog. This blog is meant to inspire all those working in HR to encourage and recognize their employees in ways that their team will truly appreciate.
The blog provides ideas and examples of how to do this. It also keeps you up to date on industry news and trends that are important for you to be aware of as an HR leader. During these uncertain times, it is more important than ever to regulate your team in a healthy and modern way, and Blueboard blog has been highly effective in helping us do that.
In conclusion, I recommend giving Blueboard Blog a look over and try out some of their suggestions for your team of employees!
Nick Wallace , Co-Founder, President, and Chief Farm Officer, 99 Counties
LinkedIn Talent Solutions Blog
LinkedIn Talent Solutions Blog – This blog is written by experts from LinkedIn Talent Solutions who share their insights into everything from sourcing talent to building a strong employer brand. If you're looking for practical advice on recruiting talented employees, this is the blog for you!
Jamie Irwin , Director, Straight Up Search
Find My Profession
Find My Profession has the best HR Blog. They provide interviewing tips, resume advice and topics about culture, remote work, hiring best practices and so much more. You can find the Find My Profession blog at: https://www.findmyprofession.com/career-advice/
Kristina Ramos , Reverse Recruiter, Find My Profession
Submit Your Answer
Would you like to submit an alternate answer to the question, What is the best HR blog?
Related Questions