Who is the best HR executive search firm?
From ISO Talent to Korn Ferry, here are the 4 answers to the question, "Who are the best HR executive search firms?"
ISO Talent
TruPath Firm
The Christopher Group (TCG)
Korn Ferry
ISO Talent
ISO Talent out of Lehi Utah is an amazing executive search firm. The recruiting firm provides "on demand" services, which means you can leverage their expertise for as few or as many roles as needed. The firm has international capabilities and takes a commission-free approach to recruiting, which reduces the total expense associated with finding new talent.
Logan Mallory , Vice President of Marketing, Motivosity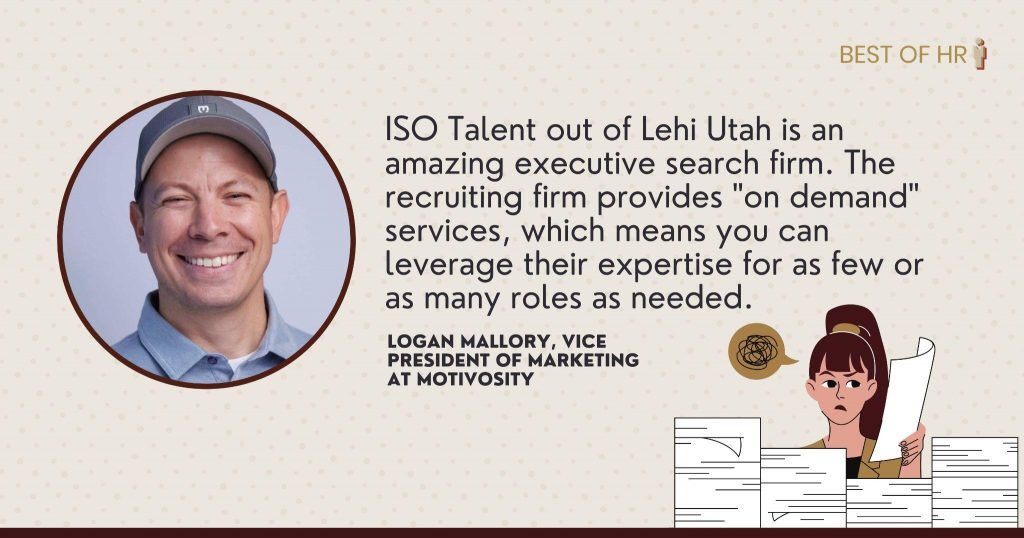 TruPath Firm
The Human resource office is among the leading positions in any business or organization.TruthPath serves you by helping you get the best human resource officer. TruPath boldly professes that choosing a candidate goes beyond the resume.
TruProcess is a search process that they have created in order to find a perfect candidate for one's business or organization by considering the business's goals, values and mission, making it the best firm. TruPath firm strongly believes that employing human resource officers by matching their job skills to their accomplishments that relate to the position is not effective.
Yongming Song , CEO, Live Poll for Slides
The Christopher Group (TCG)
Founded in 1998, The Christopher Group (TCG) has positioned itself as one of the top HR executive search firms since its beginnings. Specializing exclusively in recruiting HR executives and leaders, the company has the knowledge, processes, and tools to provide the highest level of service. The Christopher Group uses its proprietary Christopher Recruiting System in its recruitment processes, constantly updated and revised as recruitment trends evolve. The company's actions are guided by grace, dignity, and excellence in pursuit of promises that delivers quality results. This is confirmed by hundreds of satisfied clients who have found exceptional leaders with the help of The Christopher Group. In addition, the company was founded by passionate HR practitioners with their own vision and methods for recruiting HR executives and leaders.
Nina Paczka , Community Manager, Live Career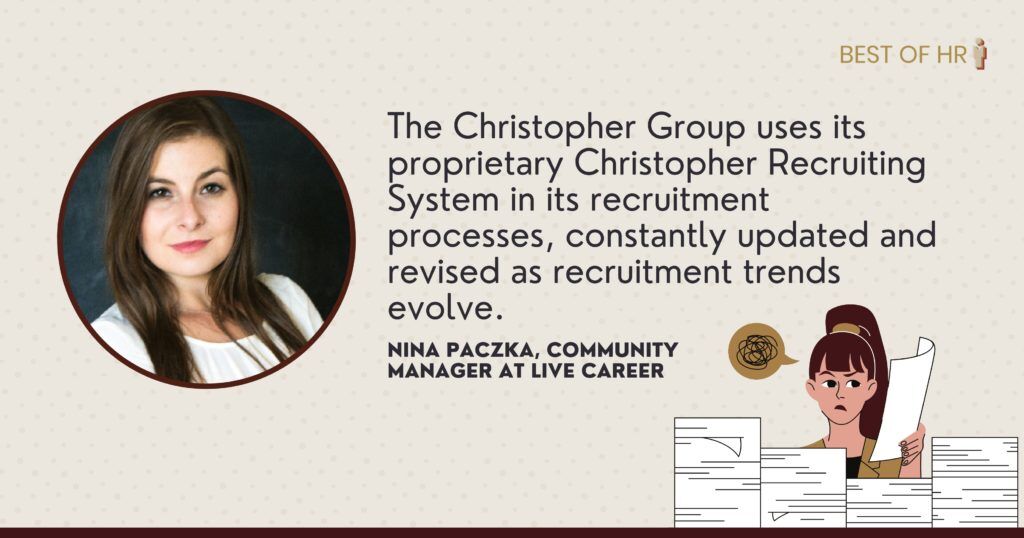 Korn Ferry
One of the top executive search firms is Korn Ferry . The company has a strong focus on leadership, across domains and functions. Not only does Korn Ferry serve as an extension of a human resources team, but they also help recruit HR professionals. That means you could likely use Korn Ferry for all of your executive and senior-level hiring needs.
Kelli Anderson , Career Coach, Resume Seed
Submit Your Answer
Would you like to submit an alternate answer to the question, Who is the best HR executive search firm?