What is one thing an ideal employee relocation package should include?
If we've learned anything the past few years it's that employees can and will work from anywhere in the world. But there's still a demand for on-site employees, so what can you offer to help navigate the current housing market?
These six recruiting experts have some ideas on what your employee relocation package should include:
Do the Packing for Them
Safeguard the Employee's Sentimental Items
Reimburse the House-Hunting Trip
Provide Child Care Assistance
Offer Temporary or Rental Stays
Break the Lease
Do the Packing for Them
Covering packing is a big boon to any employee relocation. A company relocating an employee should be willing to help with the moving in order to make the transition as painless as possible. Packing and unpacking are the two elements of moving then tend to take the longest amount of time.
In fact, some recent home buyers may still have packed boxes months (or longer) after they've already moved into their new home.
By providing this service in your relocation package, a company can help minimize the disruption a major move causes in an employee's daily life and get them working at peak efficiency all the sooner.
Boye Fajinmi, TheFutureParty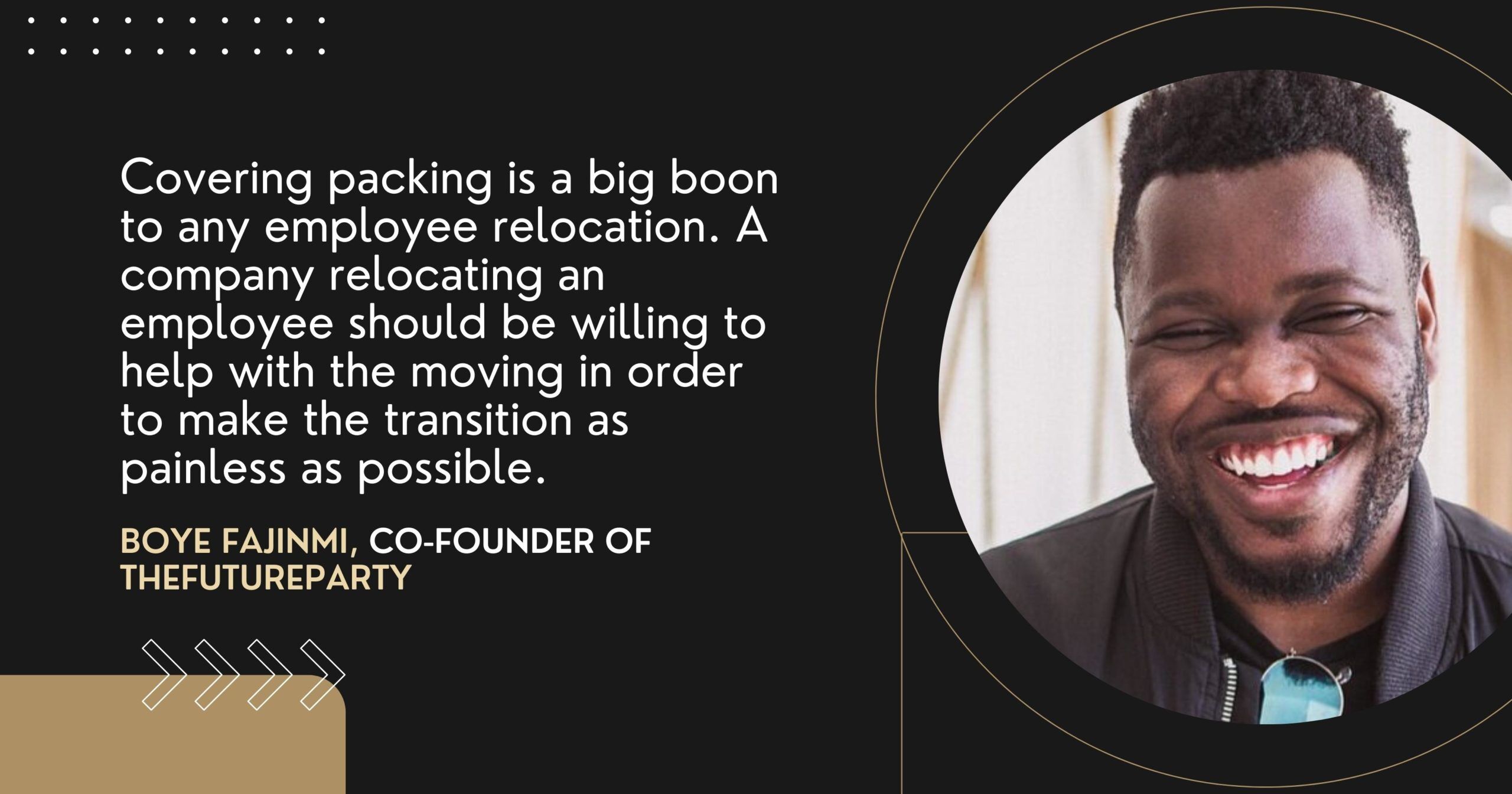 Safeguard the Employee's Sentimental Items
One major thing an ideal employee relocation package should include is a reputable moving company. For those moving, finding a moving company is sometimes more than half the battle. This is because many of us have fragile or sentimental items that we have had in our possession for years, and the possibility of them being severely damaged could be incredibly nerve-wracking.
That being said, make sure to hire a reputable moving company that has received good reviews. In addition to that, make sure to get an insurance policy for the moving process in the case that some items or goods are damaged in the process.
Adrian Pereira, Eco Pea Co.
Reimburse the House-Hunting Trip
One thing all employee relocation packages should include is a minimum of one house-hunting trip. Employees will need a new home and finding the perfect house can be time-consuming. House-hunting is also one of those things that needs to be done in-person to truly get a feel for the place. A few paid days off and some modest travel reimbursement will give employees the time to focus on finding a place they can call theirs in a new locale.
Kevin Callahan, Flatline Van Co.
Provide Child Care Assistance
One helpful item often overlooked in an employee relocation package is child care assistance. If the employee has a family, then they will need to take care of their kids while also making arrangements for housing.
The new hire will likely not yet know anyone in the new city who can babysit, and leaving the kids at home occasionally can simplify tasks like home hunting or registering for new schools.
Finding a watcher would be one more thing on the employees' to-do lists and the parent likely wants to take their time hiring a trusted long-term carer, but providing a short-term sitter can take stress and burden off of the relocating parent.
Michael Alexis, tiny campfire
Offer Temporary or Rental Stays
An ideal candidate can choose temporary housing with their family as the best relocation package. However, large corporations should pay for affordable accommodation costs in a reasonable amount of time with the addition of a signing bonus. Examples of properties your company can provide are extended stays or rental locations that fit their needs. The extra money earned gives the family support for the temporary housing and relays a message you care about their wellbeing.
Benjamin Earley, HOLT
Break the Lease
Assistance for lease-break penalties or selling homes. When a new hire is relocating to take a job, they often have to make quick decisions about how to exit their current living environment. For homeowners, that means quick sales on a property they've invested a lot of money into. For renters, there are often penalties involved in breaking a lease early. A responsible employer should assist with the financial loss that their new employee may incur as a result of these issues.
Vimla Black Gupta, Ourself