What are some human resource philosophy examples?
From putting your team first to how vital HR is to the business, here are the five answers to the question, "What's your philosophy on Human Resources?"
Prioritize Your Employees First
People Are Our Most Important Resource
HR Is the Glue That Holds Your Team Together
HR Should Be a Strategic Partner in the Firm
Our Role Is Absolutely Vital for Company Success
Prioritize Your Employees First
Human Resources should be the advocates for employees and their overall well-being. Interactions with HR should be positive and welcomed by employees, which sadly is not in corporate culture.
HR should be looking for ways to improve employee morale and skills and synchronizing company-employee relations. That is what the philosophy of HR should be about.
Every Human Resources department should follow that philosophy, and it would make a tremendous difference in corporate culture. This is what HR was supposed to be doing when it originally was developed.
Over time, it has been reshaped to be focused on policy, compliance, and reprimanding employees. When your employees fear and don't want to interact with your HR department, you are doing something tremendously wrong.
Mark Smith, Program Chair, University of Advancing Technology
People Are Our Most Important Resource
People are the backbone of any organization. Thus, the HR function should be there to support people in every aspect of their work life. We can achieve this by providing a safe space to discuss any issues or concerns, offering support and training to help employees grow and develop, and ensuring that all staff are treated fairly and equitably.People are our most important resource. As such, I work to ensure that our employees are happy and productive in their work.
I try to be as flexible as possible when it comes to my employees' work schedules and duties. We also make sure to offer our staff training and development opportunities so that they can continue to grow both personally and professionally.My philosophy on human resources is that we need to bring out the uniqueness in everyone to make them feel valued and appreciated. We should make them feel like they are a part of something bigger by celebrating their successes and helping them achieve their goals at work and in life.
Matthew Ramirez, CEO, Rephrasely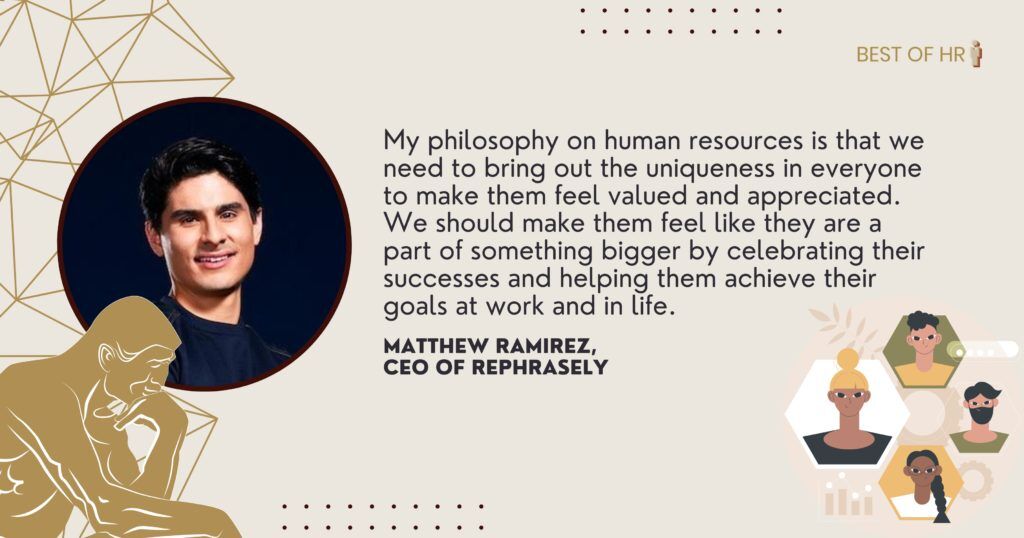 HR Is the Glue That Holds Your Team Together
Here is my philosophy: HR is the glue that holds your team together. It's not just about "hiring" people, it's creating an environment where employees feel satisfied and well-loved by their company—which means you should have someone in this role who enjoys watching other humans develop!
HR should be the friendly face of your company, always willing to listen and help employees out in any way they can… If you find the ONE, you've got a winner on your hands.
Maria Harutyunyan, Co-Founder, Loopex Digital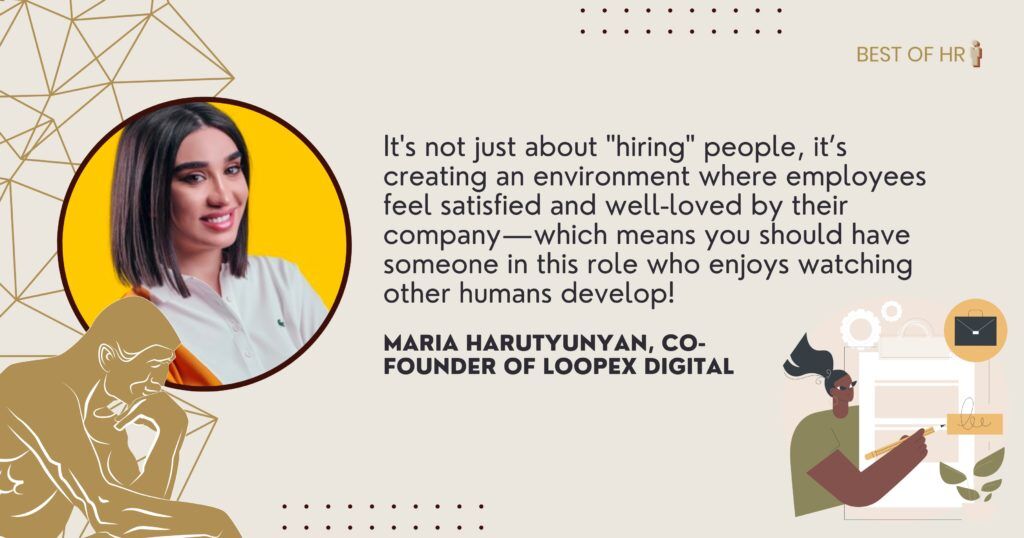 HR Should Be a Strategic Partner in the Firm
I believe Human Resources should be a strategic partner in the organization.
They should provide value-added services that support the overall business strategy, and should also be a resource for employees and managers, providing training and support for employee development.
Grace He, People & Culture Director, teambuilding.com
Our Role Is Absolutely Vital for Company Success
Human Resources is a vital function in any organization, large or small. I see HR as being responsible for attracting, developing, and keeping the best talent for the company.
I also think that HR must be strategic in its approach, aligning with the business goals of the company and working to create an environment where employees can thrive. The HR team must be proactive in addressing employee concerns and issues, and that communication is key to maintaining a positive work environment.
Finally, our HR staff must always look for ways to improve the employee experience, whether it be through benefits, programs, or simply by providing support and guidance. By following these principles, I believe Human Resources can play a pivotal role in ensuring the success of any organization.
Jamie Irwin, Director, Straight Up Search
Submit Your Answer
Would you like to submit an alternate answer to the question, What's your philosophy on Human Resources?
Related Questions