What are the best HR books for someone just getting started in Human Resources?
From "Unleashing the Power of Diversity" to "Armstrong's Handbook of HRM Practice", here are the 6 answers to the question, "What is the best HR book for someone just getting started – or looking to get started – in HR?"
Unleashing the Power of Diversity
HR On Purpose
What Color Is Your Parachute
No Rules Rule
Range
Armstrong's Handbook of HRM Practice
A History of Human Resources: SHRM's 60-Year Journey
Unleashing the Power of Diversity
Unleashing the Power of Diversity
,
by Bjorn Z. Ekelund is the best book for someone just getting started in the HR field. Why does diversity matter in the workforce and how is it changing across the world? It also describes the importance of effective communication and how to apply those in the real world. It teaches beginners about Improvement in communication and diversity and describes the various aspect of these two topics, such as the viability and sustainability of diversity.
Karen Cate Agustin, Business Analyst, Investors Club
HR On Purpose
As an aspiring HR professional, getting on top of the profession requires skills and knowledge. Books remain a vital source of important data in a world where information is abundant. The book HR on Purpose
offers a refreshing insight into the HR profession in the most intriguing ways. It gives forth what HR entails through an engaging assortment of real-life examples, insights, and epiphanies. Through these, it encourages practitioners and, most importantly, prospective practitioners to drop their preconceptions of what HR should be and instead focus on what HR could be. It provides insightful information in the most engaging ways possible.
Yongming Song, CEO, Live Poll for Slides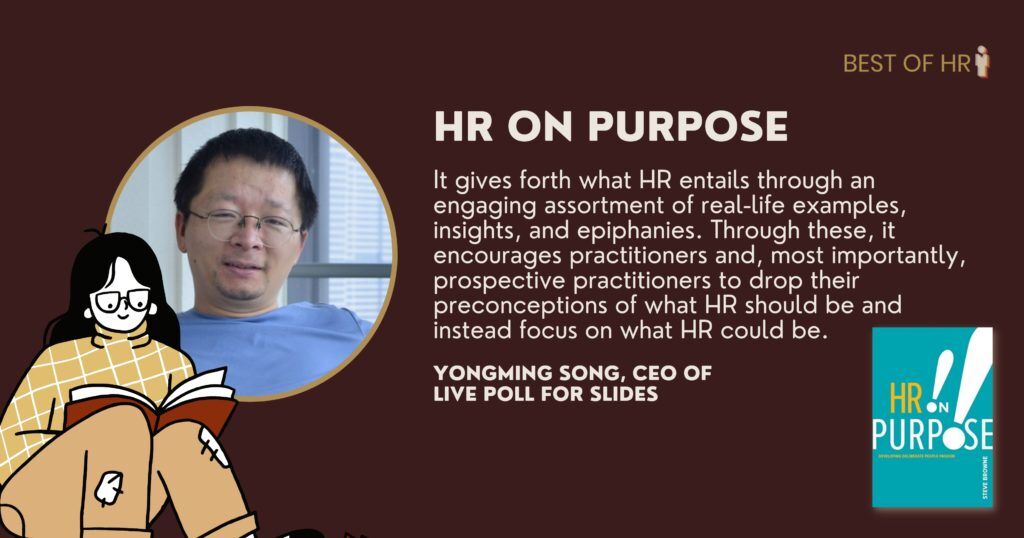 What Color Is Your Parachute
The field of HR has many different types of roles in it, the common factor being expertise in the "human" experience. If you are new to HR and don't have much history coaching people through sensitive problems, I recommend What Color Is Your Parachute
as a great book to start your journey. Go through it as a recipient to have a better understanding of where you can add value in the HR field:- If you are more interested in getting to know people and driven by hitting clear targeted goals, you may fit well in Recruiting.- If you are introverted and great with numbers, perhaps People Operations or Comp/Ben. – If you are a big idea person and good at persuasion, perhaps HR Generalist to HRBP is your track. After completing this book you will feel more confident in your selected path and can reference the content with others to help them on their own development. This will make you extremely valuable as you develop your skills and pursue a career in any HR role.
Briann Baker, Head of People, Hallow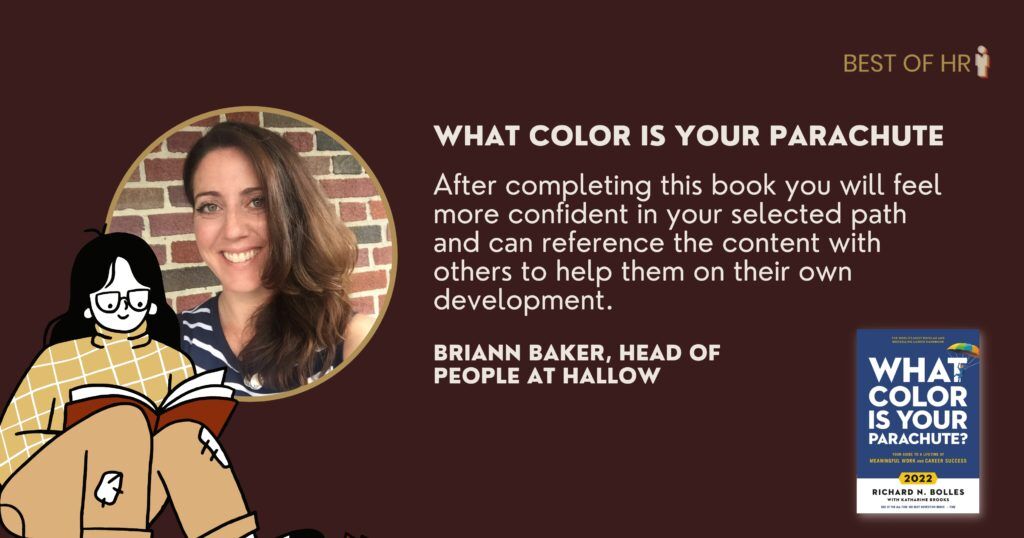 No Rules Rule
No Rules Rule
is written by the owner of Netflix and the Netflix journey through an HR and culture lens. There are so many awesome nuggets of wisdom in the book as it pulls the curtain back on how this media giant scaled to where it is today. Some of my favorite lessons include: 1. Lead with context not control. You hire great people, let them help you forge the way to success as an organization. 2. Have an employee ranking system – This sounds cold but it's a reality business leaders have to embrace. It addresses the thought process around retention of top talent. 3. Turn your TA team into market 007s: Netflix encouraged employees to take recruiter calls and ask for the compensation of the role. They would then report that information to TA who kept it in a database. Working with compensation, Netflix was able to leverage real-time data to focus on retaining top talent. There are so many great pieces of advice in this book, definitely worth the read.
Trent Cotton, Senior Director of Talent, Hatchworks
Range
Every working professional and leader should read Range
by David Epstein. But for those looking to get into HR careers, this book is especially important. It's a book that makes its case for people who have 'range' in their skill sets. Those who have had different types of experiences or have pivoted in their career are often some of the best hires, employees, and leaders. HR professionals tend to discount generalists, or people with range, and it's a crucial mistake. Starting a people-related career with a book like Range will give you a different perspective.
Kelli Anderson, Career Coach, Resume Seed
Armstrong's Handbook of HRM Practice
Armstrong's Handbook of Human Resource Management Practice
by Michael Armstrong & Stephen Taylor is HR bible to me.This insightful HR classic is a guide to the theory and practice of people management. The authors describe all the most important areas of this field. These include recruitment, performance management, organizational behavior, health and safety issues, employee engagement, HR policy, and many more.Each chapter lists the key concepts and terms of a chosen HR field. There are also questions that allow practitioners to verify the acquired knowledge straight away.What I like the most about this book are the in-depth explanations that are understandable even for a beginner. Additionally, the authors encourage the readers' learning. They provide comprehensive online material for self-study, which is great.
Agata Szczepanek, Community Manager, LiveCareer
A History of Human Resources: SHRM's 60-Year Journey
A History of Human Resources: SHRM's 60-Year Journey is a foundational HR book for someone looking to establish a long career in Human Resources. I can't remember how it got on my bookshelf, but it's a coffee table book that covers how HR got its start to when the book was published in 2009. Granted, there's a thirteen year gap between 2009 – 2022 that's not covered, and HR has evolved quite a bit since then. But, I'd recommend. Buy it online, or hit me up if you're ever in Scottsdale, AZ and want to peep the pages.
Brett Farmiloe, CEO, Terkel
Submit Your Answer
Would you like to submit an alternate answer to the question, What is the best HR book for someone just getting started – or looking to get started – in HR?
Related Questions