What are the best HR graduate programs in the US?
From Loyola University to Azusa Pacific University, here are 6 answers to the question, "What is the best HR graduate program in the US?"
Loyola University
The University of Texas at Arlington
The University of Wisconsin-Madison
Cornell Masters in HR Program
New York University
Azusa Pacific University
Loyola University
The Human Resources Master of Arts program at Loyola University offers a well-rounded education in the field, with courses ranging from Labor Law to Strategic Planning. Students can also earn professional certifications in Human Resources Management (HRCI), Human Resources Development (HRD), and Global Talent Management (GTM).
In addition, the program features a number of experiential learning opportunities, including internships. The program also offers robust career support through resources such as mentorships, workshops, and networking events with employers in the field. Loyola University is an excellent option for those considering a graduate degree in Human Resources.
Michael Fischer , Founder, Elite HRT
The University of Texas at Arlington
UTA's HR graduate program is among the best in the US. It provides rigorous and comprehensive training on the principles of Human Resources, enabling students to develop a strong foundation in areas such as personnel management, collective bargaining, employee relations, compensation and benefits administration, strategic planning, and labor law.
With its focus on developing analytical skills for problem-solving and decision-making, the program ensures that its graduates are prepared to enter the HR profession with confidence. The university also offers numerous resources for career development, including internships, networking opportunities, and job search assistance.
Asker Ahmed, Director & Founder, Iprocess
The University of Wisconsin-Madison
The University of Wisconsin-Madison offers one of the country's best HR graduate programs during their Master of Science in Human Resource Management course. This two-year program aims to provide students with a comprehensive understanding of HR management and development. The program's curriculum covers various topics, including employment law, consulting, people analytics, talent management, and organizational behavior. The program has a strong focus on practical application. It includes workshops, case studies, experiential learning opportunities, and a capstone project. Students also have the opportunity to participate in internships and get expert support and career connections. The university cares about practical insight by inviting industry speakers from significant companies to lectures. Therefore, the Master of Science in Human Resource Management is perfectly designed for individuals interested in pursuing or developing careers in human resource management or related fields.
Nina Paczka, Community Manager, Live Career
Cornell Masters in HR Program
Cornell's program is great because it emphasizes application along with business theory. For the modern HR leader, understanding the dynamics of the changing role and landscape of HR professionals, and the need to level up on business acumen, makes the program very relevant for the modern workforce.
Tony Deblauwe, VP Human Resources, Celigo
New York University
With its strong reputation, extensive alumni network, and placement in the heart of the business world, NYU's HR graduate program stands out as a leader among US programs. The curriculum is challenging and comprehensive, providing graduates with a deep understanding of all aspects of Human Resources. Students benefit from an active network of employers which ensures that their skills are marketable and they can find a job in their field.
Yusuf Shurbaji, Co-Founder & Managing Partner, Prismfly
Azusa Pacific University
The HR program at APU is one of the best in the US and provides students with a comprehensive learning experience. The program is designed to give graduate students an understanding of all aspects of Human Resources, from employee motivation to organizational behavior. It also covers topics such as employment laws and regulations, legal compliance issues, labor relations management, compensation, benefits, and recruitment.
The program is offered in both full-time and part-time formats, so it can accommodate the needs of busy working professionals. The faculty is highly experienced and knowledgeable in their areas of expertise, providing students with an engaging learning experience.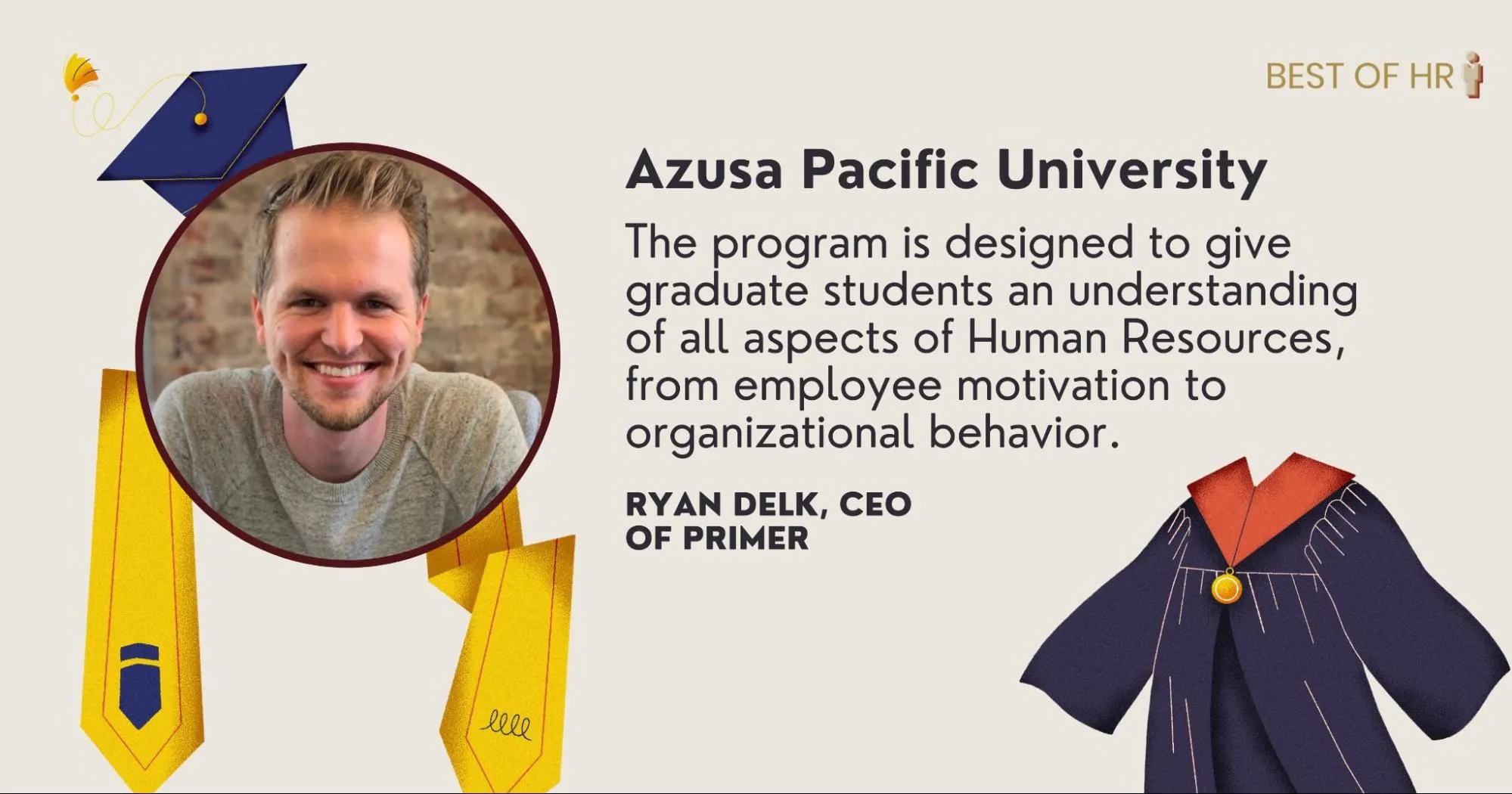 Submit Your Answer
Would you like to submit an alternate answer to the question, What is the best HR graduate program in the US?
Related Questions