What is a great city for someone looking to land a job in HR?
From Washington D.C. to Austin, TX, here are seven answers to the question, "What are some great cities for someone looking to land a job in HR?"
Washington D.C.
Atlanta, GA
Philadelphia, PA
San Francisco, CA
Toronto, Ontario, Canada
New York City, NY
Austin, TX
Washington D.C.
Washington D.C. is, unsurprisingly, a great place for someone looking to work in the HR field. It's a busy city with many high-profile employers making it their home. Companies such as Lockheed Martin, IBM, and, of course, the federal government call the city home.
This leads to a high average density of HR employees per worker, making D.C. a fine starting point for searching for jobs in this field. While the need for HR professionals may have some ebb and flow in D.C., it's unlikely that there'll be any lack of positions over an extended period.
If you can't find anything in D.C. right now, just keep your eyes peeled. The jobs will come—you just need to be ready for them.
Boye Fajinmi , Co-Founder & President, TheFutureParty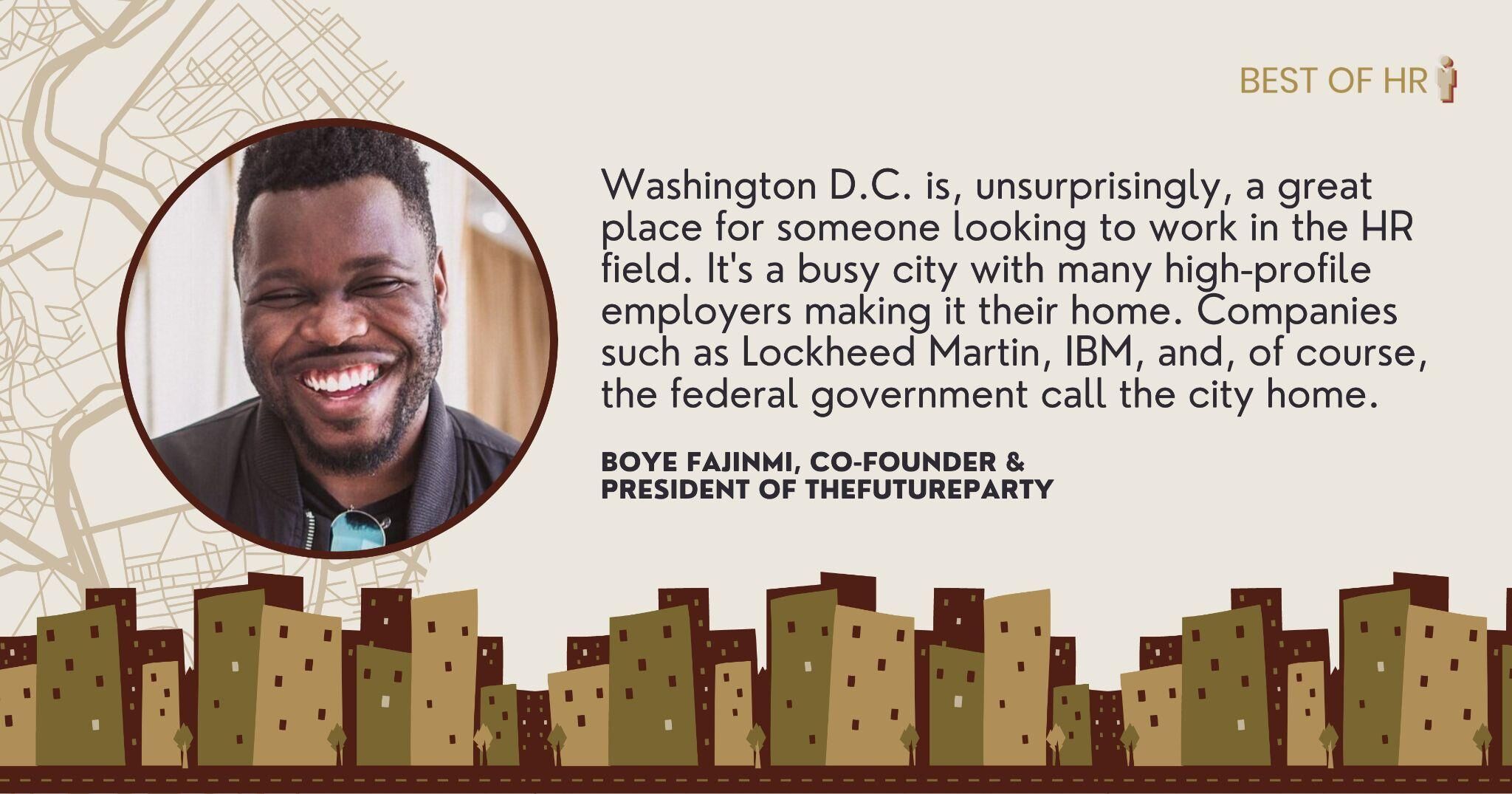 Atlanta, GA
For those who don't want the headache of needing to compete with the city with the highest density of HR workers, like Washington D.C. There are other cities where the HR market has been flourishing; one of them being Atlanta.
The amount of positions available usually fluctuates between 1500 and 2000. The most prominent employers in the area are UPS, The Home Depot Corporate, Coca-Cola, and Delta Airlines.
Atlanta is an excellent place to consider, especially because The Economist recently declared it the "most livable" city in the United States.
Nicole Ostrowska , Career Expert, Zety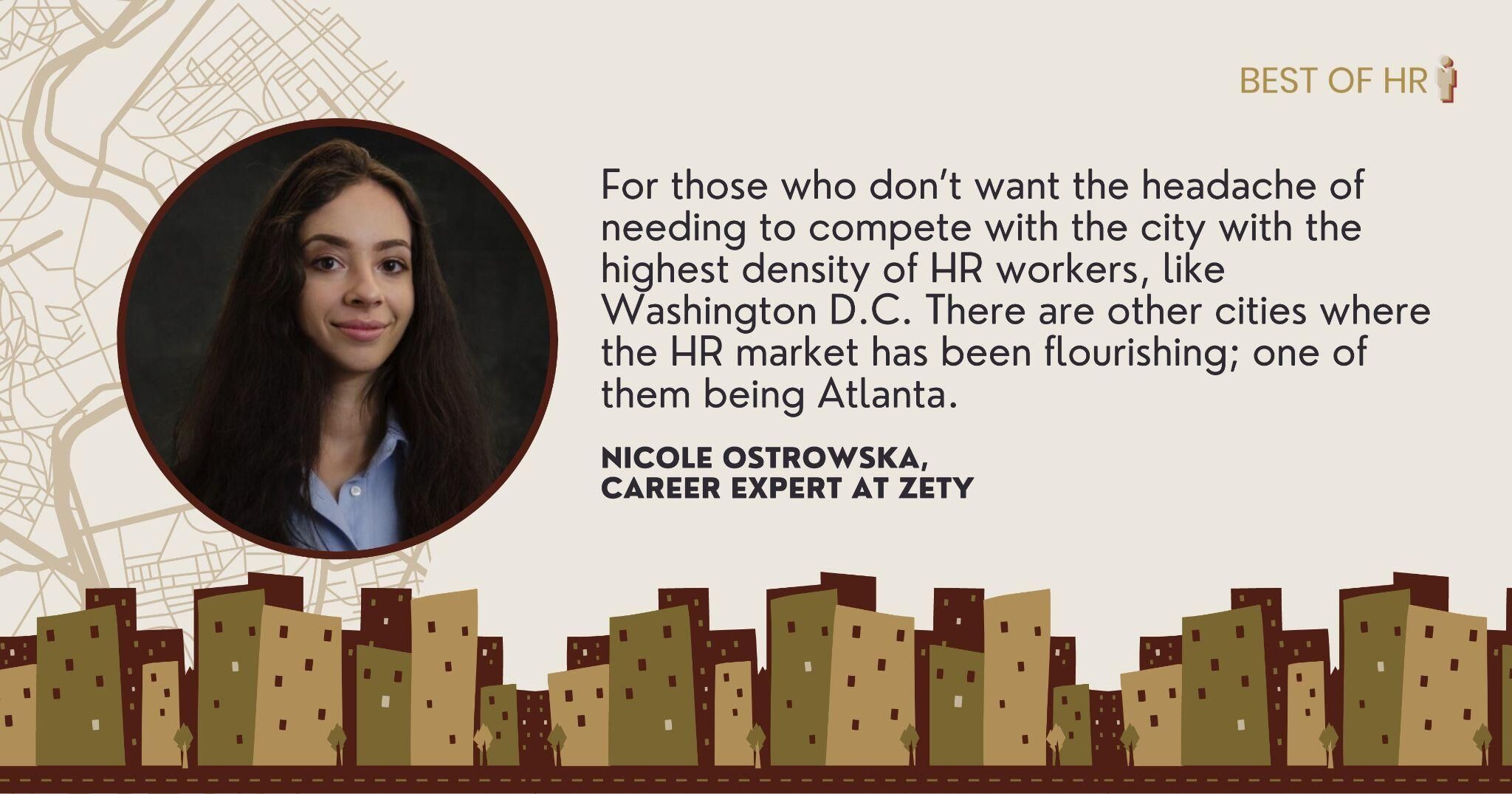 Philadelphia, PA
There are many great cities for those looking to land a job in HR. One of the best cities is Philadelphia.
Philadelphia is home to many organizations, including some of the largest companies in the world. This means that there are many opportunities for those looking to work in HR.
The city also has a strong job market, and the cost of living is relatively low. This makes it a great option for those who want to start their career in HR.
Benjamin Basic , Content Writer, Fast Food Menu Prices
San Francisco, CA
HR is a unique field that serves to gap the divide between industries, vital for both large and small businesses. If you want to land a role in the HR industry, San Francisco is one of the greatest cities for you.
It's a sound choice because of its high workforce population and many prominent employers, including Facebook, Oracle, and Wells Fargo. The technological infrastructure also facilitates individuals to apply online for the openings.
The city also has an accommodative lifestyle coupled with ideal year-round weather and a tech-oriented population.
Yongming Song , CEO, Live Poll for Slides
Toronto, Ontario, Canada
One great city for someone looking to land a job in HR is Toronto, Canada. Toronto is the largest city in Canada and is home to many large and successful businesses. It has a vibrant and diverse economy, and is a great place to start a career in HR.
The city is also home to many universities and colleges, making it an ideal place to learn the skills and knowledge necessary for a successful HR career. Toronto is also home to a wide variety of cultural events and activities, making it a great place to live and work.
Grace He , People & Culture Director, teambuilding.com
New York City, NY
New York is one of the best cities for someone looking to start a career in HR. You will find many prominent employers from various sectors, such as Deloitte, Pepsi, IBM, JP Morgan, and Verizon.
These corporations have heavily developed HR structures offering employment in different HR or related positions. Besides the big players, many smaller companies are also in NYC. Also, the number of job openings is counted in the thousands. This gives you a greater choice of employers you'd like to work for and increases your chances of getting hired. However, living in the city center can be expensive, and finding suitable housing can be difficult. However, commuting from the suburbs is not the worst option when considering remote or hybrid work opportunities.
Nina Paczka , Community Manager, Live Career
Austin, TX
While more companies are offering remote work opportunities, for someone in the middle of their job search who wants to move, Austin, TX is one they should consider for HR roles.
Austin is a tech hub with many companies headquartered there. And because every company has an HR department, there are likely many opportunities. Whether you're looking for Human Resource Business Partner roles or recruitment positions, there are several available in Austin.
Kelli Anderson , Career Coach, Resume Seed
Submit Your Answer
Would you like to submit an alternate answer to the question, What are the best cities for HR jobs?
Related Questions