What's your best practice for job descriptions?
From being direct about position info to clarity around essential duties, here are the 15 answers to the question, "What are the best practices for writing a job description?"
Be Straightforward About the Position
Market the Organization
Clearly State Compensation
Ditch the Requirements and Be Transparent
List Any Tool or Software Requirements
Promote Growth Opportunities
Don't Seek a Replica of the Incumbent
Include Quantifiable Requirements
Get Clear on Required vs. Preferred Skills
Describe the Candidate You Want, Not Just the Job
Add Bullet Points
Reduce Fluff and Be Professional
Double-Check It With Someone in that Role
Keep It Simple
Focus on Essential Duties
Be Straightforward About the Position
When writing a job description, it is important to recognize that you are not writing a job advertisement. The difference here is that you are sharing information on the role and trying to describe the goals and the requirements of the position in order to find the right person for the job.
It is important to be straightforward about what you expect of the new employee and the overall goal of the position. Remember that just because you are providing information does not mean you can't also try to make applicants feel encouraged and welcome to apply. Do your best to describe the position to attract the type of applicants your company is looking for.
Brandon Brown , CEO, GRIN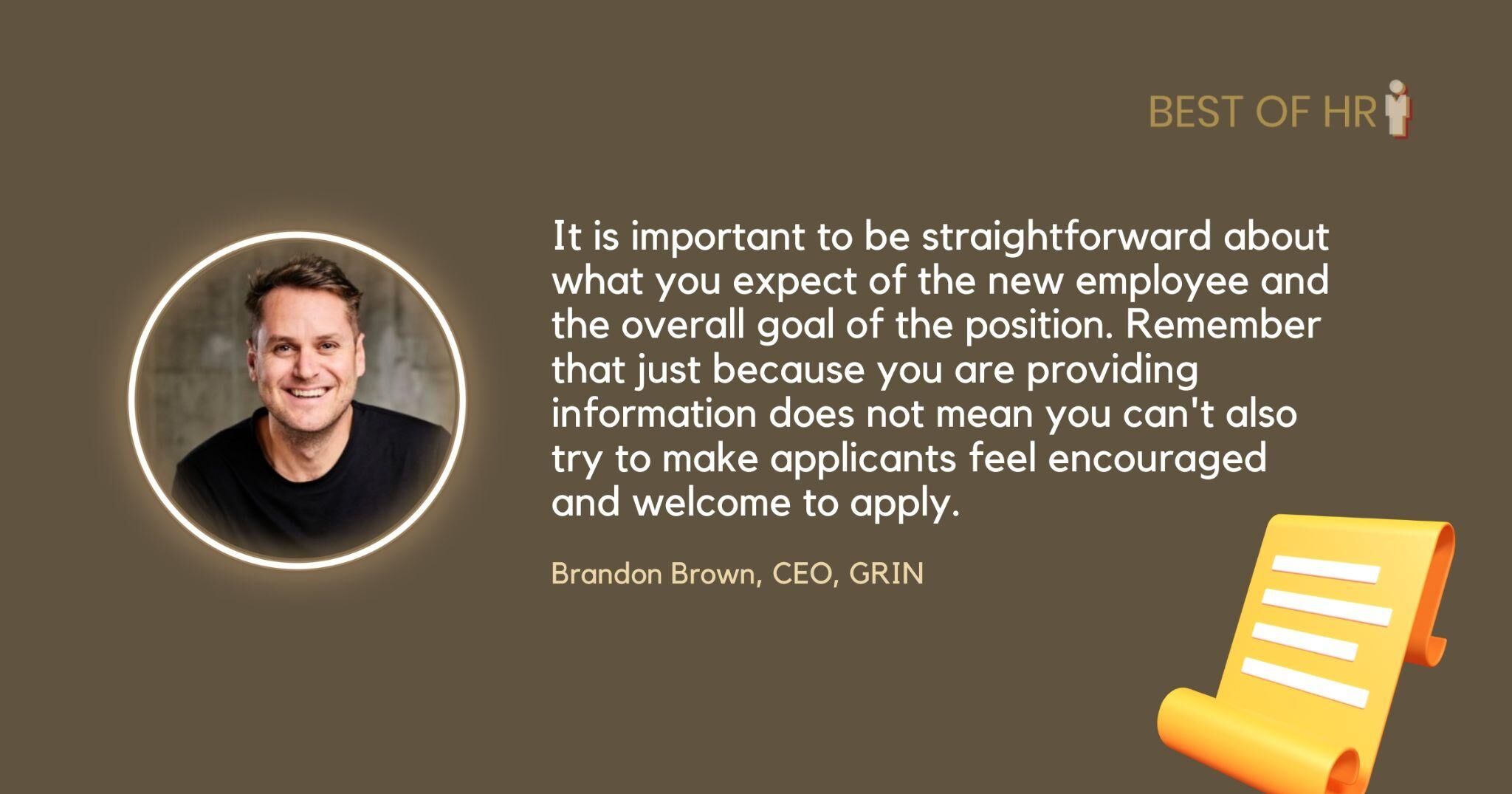 Market the Organization
Adding an "About Us" section at the beginning of the job description is a great way to show what makes the organization shine. The goal is to share reasons applicants would be interested in joining the company.
A winning job description should also be personalized, up-to-date, and clearly outline the expectations of the role. It should include details about the position's duties, requirements, and the job title of their immediate supervisor.
Benjamin Farber , President, Bristol Associates, Inc.
Clearly State Compensation
Many professionals now place a greater focus on job compensation than they may have previously. With the recent changes behind the concept of hiring transparency, you may find that more people are passing up your job postings if you aren't telling them about your compensation and benefits.
An applicant wants a clear understanding of what they're applying for and having anything less can make many potential hires click right past your job listing. Do yourself a favor and place compensation elements near the top of your job description.
If the compensation meets an applicant's requirements, they'll read on. If they don't, then they can move on without wasting your time or theirs. No one's time is wasted and no hard feelings will be had for bringing someone into an ultimately fruitless application process. Clear compensation keeps things professional and streamlined for everyone involved.
Max Schwartzapfel , CMO, Schwartzapfel Lawyers
Ditch the Requirements and Be Transparent
A job description is much more than a set of requirements necessary for a role. A job description is a chance to tell the candidate about the position, what they will work on, who they will work with, and how success will be measured. We have seen much success by ditching the requirements, showing candidates their growth path, and being transparent with our process.
Instead of the requirements section, use these two instead;In your first 3 months, you will… – Here, list points on how they will be onboarded, trained, and integrated into the company. In your first 12 months, you will… – Here, list what is expected to be achieved, such as goals, projects, or OKRs, and how they will be measured. Next, ensure you share the salary range and benefits, and let candidates know how they will be compensated for their time and expertise. And last, show them what the process looks like, how many interviews there will be, what will be covered, and who they will speak to.
Noah Warder , Head of People, Guusto
List Any Tool or Software Requirements
This is always an obvious one that we certainly do not see enough of. If you have any tool or software experience requirements, list the actual tool and software names (not just say that experience in software for X sector is required). This allows applicants to know upfront whether they need to look into software-specific training as part of the application process, and it also betters your skill-based matching for candidates who already have that specific experience for a tool or software suite that they will need as a crucial component of their role.
Wendy Makinson , HR Manager, Joloda Hydraroll
Promote Growth Opportunities
Improving the quality of your job descriptions can also improve the quality of new hires. Promoting growth opportunities is one of the best ways to strengthen your employer's brand and attract top talent.
Employees seek good and fair compensation, but it does not all end at the paycheck; many studies show that job seekers are more interested in employers that define clear career paths and support their employees' growth consistently.
So, in addition to defining roles and responsibilities, your job descriptions should explain to potential employees the specific skills, competencies, and activities you will evaluate them on.
Knowing what is required of them and how they will be assessed gives employees the control they need to move their careers to the next level.
Ben Lamarche , General Manager, Lock Search Group
Don't Seek a Replica of the Incumbent
When writing a job description, it can be tempting to look to the last person who filled the role as the model of what is needed. Though tempting to try to "plug and play" that way, I recommend against it.
When a role is vacated, it's the perfect opportunity for an organization to take a fresh look at what is truly needed by the team and business. Tapping into market trends can also support when shaping a new description. What are candidates looking for now as opposed to five years ago?Additionally, the best job descriptions are outcome-based. Besides a list of responsibilities the new hire will own and the requirements requested, be clear about the outcomes expected from a successful incumbent. What results will mark success along the way? When I worked as a leader in Talent Acquisition, I would always ask the hiring team to paint me a picture of success at 12 months, 18 months, and 2 years so that I could set expectations in the job description.
Emily Golden , CEO & Strategic Talent Advisor, Golden Resources, LLC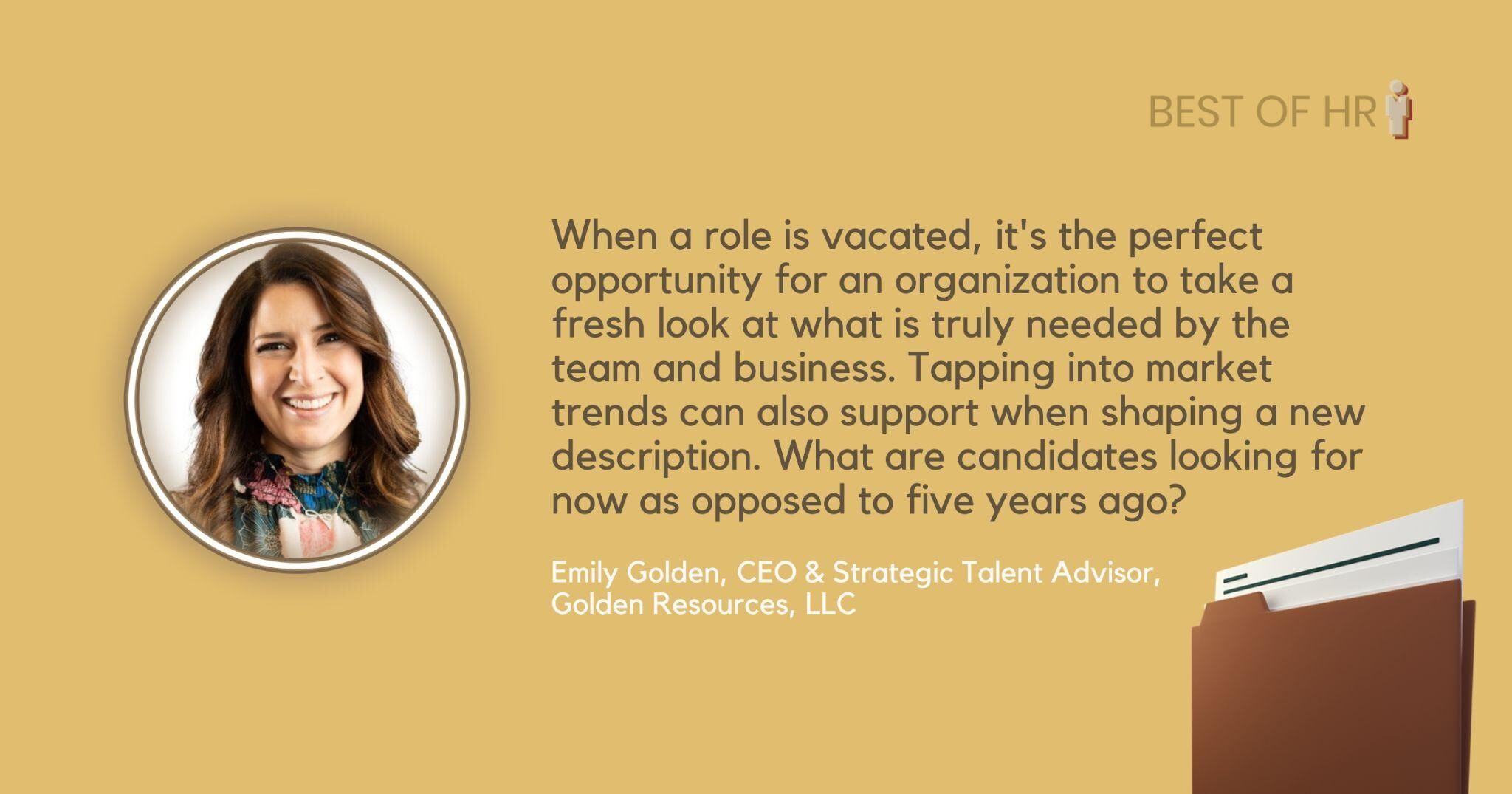 Include Quantifiable Requirements
With writing a job description, I really like to include quantifiable requirements. This means including data-based information about what you're looking for in an employee that they can use to determine if they are a good fit for the role. For example, rather than saying, "we're looking for someone who is motivated and driven," you might say, "we need a candidate who has been involved in at least two large projects that required them to work with a team of 10 people." It lets applicants evaluate whether they are qualified for the role, which helps reduce the time recruiters spend in the interview stage.
Tiffany Homan , COO, Texas Divorce Laws
Get Clear on Required vs. Preferred Skills
Writing effective and interesting job descriptions takes skills and nuance. One best practice to keep in mind is the difference between "required skills" and "preferred skills."
Think carefully about which skills a qualified candidate truly needs, and which ones are simply preferred. This will not only help you attract top talent in the competitive labor major but also a wider range of candidates you may have been missing out on.
Dr. Kyle Elliott , Founder & Career Coach, CaffeinatedKyle.com
Describe the Candidate You Want, Not Just the Job
Don't just describe what the tasks of the job are when you're writing a job description. Make sure the job seekers who are reading it know the candidate you're looking for.
If the job requires the completion of several fast-paced, under-pressure tasks, make sure you explicitly state that you're looking for someone who can juggle multiple tasks and meet deadlines. Also, state that the person must do accurate work while under pressure.
Make those who are reading the job descriptions think hard about whether they have the skill set and work ethic required for the job. That might reduce the number of applicants and raise the overall quality of the candidates who apply.
Emily Saunders , Chief Revenue Officer, eLuxury
Add Bullet Points
This keeps the application short and sweet, and it allows candidates to skim over the content quickly. There's nothing worse than reading run-on sentences in a long paragraph when applying for a job. Attention to detail is important, however, you can do it with bullet points.
Randee Machina , Director of Marketing, Simpli Pleasures
Reduce Fluff and Be Professional
A lot of job descriptions want to be eye-catching and friendly, but they can go a bit too far. Don't choose fluff over substance. You want to make a good impression, and seem like a friendly, upbeat workplace, but if you appear too unprofessional, you'll end up looking frivolous instead.
Make sure that when you're writing your description you aren't heavily separating your content into long strings of detail or fluff respectfully. The best descriptions should blend both elements seamlessly, giving the impression that you're just work-focused as you are easy to work for.
It may take more than a few drafts to get the perfect sound for your description, but it will be worth it when you're able to draw in the right application with your overture.
Neel Shah , Founder, EZ Newswire
Double-Check It With Someone in That Role
Talk to people who are in that role to ensure your summary is accurate. When you're writing a job description, it's important to vet your own idea of what the role's day-to-day involves.
You don't want to have a contradictory description that doesn't actually resemble the job or its duties. The easiest way to ensure you're representing it correctly is to get firsthand information from a person who has, or currently, performs that job. Having them read through your description can get you on the right course.
Carrie Shaltz Haslup , Founder & CEO, Tabeeze
Keep It Simple
A best practice for writing an effective job description is to keep it simple. Have the employee identify their top responsibilities and duties of the job and list them with bullet points at the top.
Once the employee has identified these, they can then work with their supervisor to see if there are any changes/additions. Also, identify what qualifications are required of the position and if there will be any travel associated with the position.
Lindsey Hight, HR Professional, Renue Commercial
Focus on Essential Duties
When writing job descriptions, focus on the essential duties and responsibilities of the role. Don't overload this section with a bunch of tasks that you think the employee in the role should complete.
Align the essential duties of the job to the department's strategic goals and objectives, which are an extension of the organization's. Everyone in the organization contributes to its strategy, so ensure job descriptions reflect this. Not all duties will be strategic, so include needed operational and administrative tasks as well.
Remone Robinson , Chief People Officer, Revolution Consulting
Submit Your Answer
Would you like to submit an alternate answer to the question, What is a best practice when it comes to writing a job description?
Related Questions