What are the HR onboarding best practices for new employees?
From having a great preboarding game plan to allowing new employees to shadow senior management, here are the 13 answers to the question, "What are the best practices for the HR onboarding process of new employees?"
Have a Great Preboarding Game Plan
Be Intentional at Every Step
Define Your Definition of Success from Day 1
Provide a Detailed Schedule
Provide a Structured and Comprehensive Onboarding Plan
Set Priorities and Deadlines
Assign a Buddy
Try and Be as Flexible as Possible
New Employees Need Easy Access to Communication
Deliver a Detailed Welcome Packet On the First Day
Involve Your Team
Hiring Leaders Should Start Building a Connection Immediately After Job Acceptance
Allow New Employees to Shadow More Senior Management
Have a Great Preboarding Game Plan
There's a saying about candidate experience, "The Cruise is Never Better Than the Brochure." I saw this years ago and it led me to create a connected & meaningful onboarding experience for new hires. This includes a robust preboarding program. People experience an array of emotions in the (traditionally) two-week period between winding down their current role and jumping into their next with us. It's usually an awkward gray area for most. Creating a preboarding program where people are consistently communicated with, connect with their soon-to-be leader, receive (unique & great) swag, and are introduced to the organizational values. On their first day, the experience should be seamless between preboarding & onboarding. Implementing a rich & exciting preboarding program in 2021 has increased new hire "yes to desk" results by 28% with my clients.
Elizabeth Boyd, Talent Development & Learning | Workplace Experience Consultant, TalentLab.Live
Be Intentional at Every Step
Intention is the best practice for HR teams to implement, or improve, for their 2023 onboarding processes.
The benefits of a great employee experience, starting from day one, will lead to a great customer experience and talent retention.
Be intentional with your new hire's communication, starting with the job offer acceptance. You might send an itinerary for their first week of what they can expect, forms and trainings to be completed.
The itinerary should also include welcome aboard calls/introductions from other team members.
Linda Scorzo, CEO, Hiring Indicators
Define Your Definition of Success from Day 1
Make sure to define and share your definition of success inorder to ensure that everyone is on the same page from the beginning. A successful onboarding process starts with having a clear understanding of the expectations and commitments of all involved, so clearly communicate your vision for the new hire's success.
Additionally, ensure that you are providing the right resources to help them acclimate and succeed in their role. Finally, have regular check-ins and feedback sessions throughout the onboarding process to ensure that the new employee is acclimating to their role and has a clear understanding of expectations. These steps can help ensure that your onboarding process runs smoothly and sets up new employees for success in their roles.
Michael Fischer, Founder, Elite HRT
Provide a Detailed Schedule
There are many tasks that need to be completed during the onboarding process, and it can be overwhelming for new employees if they don't know what they should be focusing on first. One best practice for the HR onboarding process of new employees is to provide a detailed schedule of their first week. By providing a detailed schedule, you can ensure that they have an overview of what needs to be done and in what order. This will help them to be prepared and know what to expect. Additionally, it is important to be flexible and willing to adapt to changes if necessary. This will help to ensure that the onboarding process goes smoothly and that new employees are able to quickly become productive members of the team.
Matthew Ramirez, CEO, Rephrasely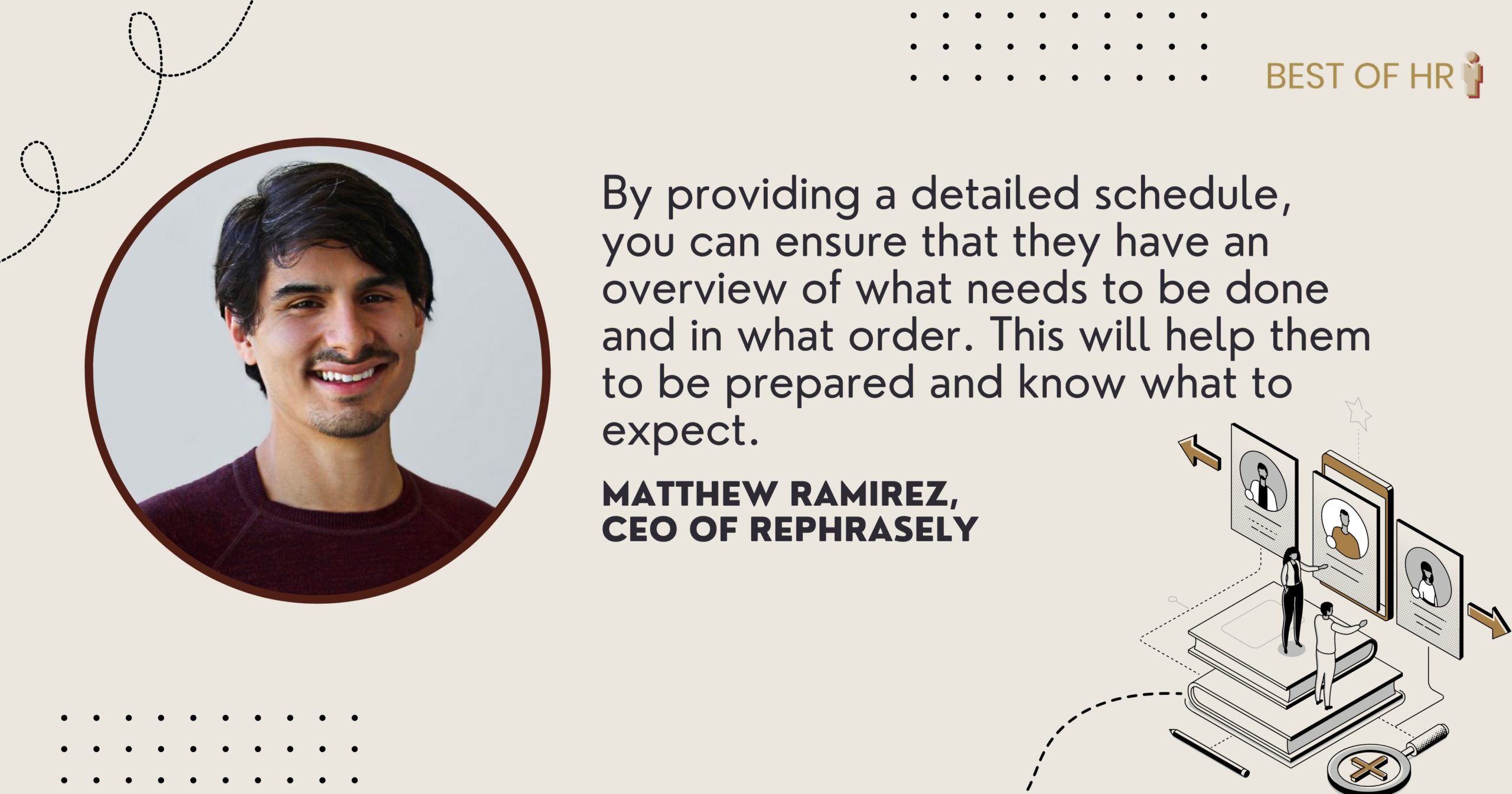 Provide a Structured and Comprehensive Onboarding Plan
One best practice for the HR onboarding process of new employees is to provide a structured and comprehensive onboarding program. This can include a mix of in-person and virtual activities, such as:- A tour of the physical workspace and an introduction to the company's culture and values- A review of the company's policies and procedures, including code of conduct, benefits, and HR policies- An overview of the company's products or services, as well as the role of the new employee in the organization- An introduction to key stakeholders and colleagues, including mentors or buddies who can provide support and guidance during the onboarding process-Opportunities for the new employee to ask questions and get feedback on their progressBy providing a structured and comprehensive onboarding program, HR professionals can help new employees feel welcomed and supported as they begin their new role, and set them up for success in their new position.
Trey Ferro, CEO, Spot Pet Insurance
Set Priorities and Deadlines
It's important to set objectives based on priorities and deadlines when onboarding employees. An agenda paints a picture of what they should expect during their first week including milestones during their initial weeks of immersing themselves in their respective role.
The priorities should include onboarding introductions with members of the team and vital points of contacts whom this role will interact with on regular basis. This grants the employee a situational awareness of the topical protocols and resources available to get started in their role. The employee will perform better by becoming a resource to others when expectations and goals are clearly communicated from day 1 of joining an entity.
Communication is key. Welcome questions and feedback to refine the process because some roles may demand a more in-depth onboarding than others.
Sasha Laghonh, Founder, Sasha Talks
Assign a Buddy
At our company, we assign a buddy or mentor to new hires – the best practice we've ever had. This system helps make new employees feel more comfortable and welcome in their new environment by pairing them with one of the mentors/buddies who can show them the ropes and answer any questions they may have.
On the flip side, our experienced team members get to flex their coaching and mentoring muscles, while our newbies benefit from the warm inclusion of a mentor when starting out. It's no exaggeration – strong relationships forged through onboarding truly are beneficial for everyone!
Buddies/ mentors also keep new hires in the in-the-know about cross-departmental communication and become real companions along the way. Our recruitment process has yielded long-term success – we've been able to hire employees who remain loyal and committed for the years ahead!
Maria Harutyunyan, Co-Founder, Loopex Digital
Try and Be as Flexible as Possible
Try and be as flexible as possible. We don't want new employees to feel overwhelmed or unprepared on their first day, so we aim to create a welcoming and comfortable onboarding experience.
By providing them with all the necessary resources, such as phone numbers and emails of team members who can answer questions they may have, having a designated mentor to help guide them through the process, and giving them the opportunity to ask clarifying questions, we strive to make the onboarding process as smooth and stress-free as possible. This allows new employees to transition quickly and easily into their roles, which is beneficial for both them and our business.
Asker Ahmed, Director & Founder, iProcess
New Employees Need Easy Access to Communication
Give employees an easy way to get questions answered during onboarding. Using secure, compliant technology that features automatic processing of the most repetitive HR onboarding tasks allows your team to provide individualized touch points to receive pre- and first-day announcements, emergency and safety protocols, as well as new employee benefits and enrollment information.
Scaling the internal onboarding process for large groups of new employees – whether that is for retail, hospitality, warehouse or distribution center frontline personnel – will ease the burden on your HR team and deliver real-time analytics of successes and challenges bottle-necking your hiring process – saving your business time, money and backlogs of HR tickets in the system.
The real benefit though, is the personal connection you build into your corporate culture by adding personalization in each internal communication opportunity, building engagement and retention with your best asset – your people
Muriel Clauson, CEO and Co-founder, Anthill
Deliver a Detailed Welcome Packet On the First Day
Create and deliver a carefully thought-out and detailed welcome packet on the first day. This packet should provide key information on the company's mission, values, and culture, as well as detail what they will be doing in their role. It should also include any necessary paperwork, such as tax forms and health insurance forms. This helps new employees feel welcomed and informed right away, allowing them to hit the ground running with confidence. Additionally, this gives them the tools to quickly and easily settle in, no matter how long they have been away from the workforce.
Yusuf Shurbaji, Co-Founder & Managing Partner, Prismfly
Involve Your Team
Involve your employees. Help that new hire feel connected to the people they will work beside as soon as possible. Remember that if these people applied with you, they probably applied with others. A bigger problem than not finding good people is finding them, hiring them, training them, and then having them leave because of another offer.Your best chance of keeping them is to get their 'heart' from the start. When I work with companies on onboarding, I suggest their goal is to have that new hire go home from the first day saying, "I love that place!"Shoving them in front of a computer and forgetting about them for the rest of the day, well, let's just say is not recommended!
Irma Parone, ODCP, President, Parone Group, LLC
Hiring Leaders Should Start Building a Connection Immediately After Job Acceptance
The one best practice for HR onboarding of a new employee is to have the hiring manager reconnect with the new employee after they have formally accepted the position.
Onboarding starts the second the candidate has accepted the position, not their first day of employment. When the hiring leader reaches out, calling their new hire to reconnect with them, it shows they care and are excited to have them join the team. That connection point is critical. The new hire will be delighted and they will feel at ease knowing they can reach out if they have questions before their first day.
Renee Frey, President, TalentQ, Inc
Allow New Employees to Shadow More Senior Management
Incorporate the ability for new employees to shadow more senior roles to get valuable hands-on experience from the get-go. This allows them to quickly get up-to-speed and better understand the company culture as well as their specific role. Additionally, providing clear and consistent communication from both HR and senior management throughout the entire onboarding process ensures that new employees feel welcomed and have a smooth transition into their new job. This can go a long way in creating an enjoyable onboarding experience and ensuring a positive start to their new role.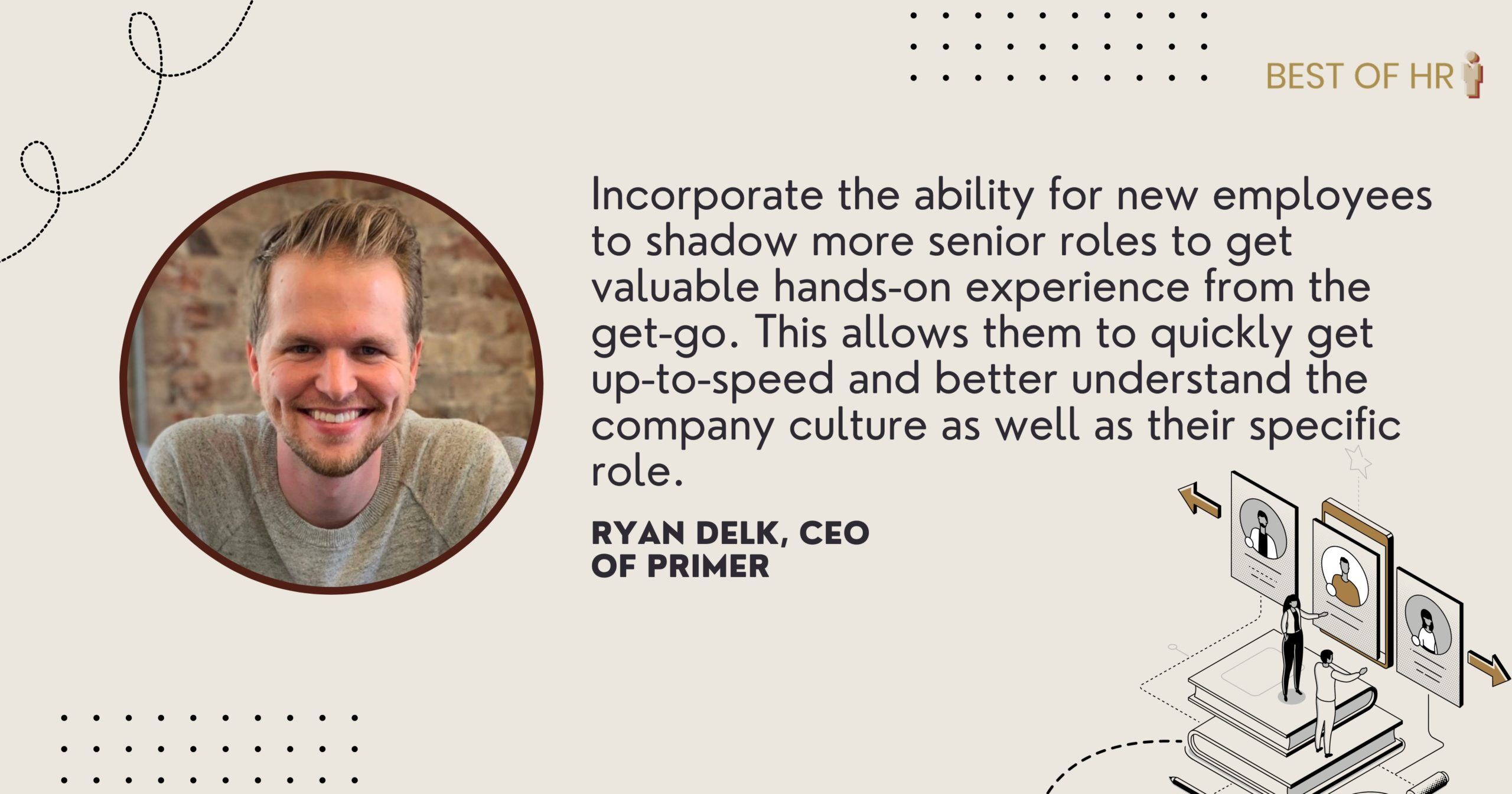 Submit Your Answer
Would you like to submit an alternate answer to the question, What is one best practice for the HR onboarding process of new employees?
Related Questions